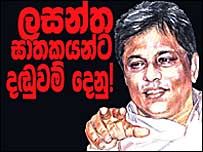 Activists and collegues have been campaigning for justice for Lasantha and family
Police in Sri Lanka say that there is evidence to suggest the involvement of a Sri Lanka army (SLA) intelligence officer in the murder of Sunday Leader editor.

Lasantha Wickramatunga was shot dead in Colombo on 08 January 2009.
Police Terrorism Investigation Department (TID) told Colombo High Court of technical evidence that suggest SLA intelligence officer Kandegedara Priyawansa was involved in the killing.
The TID made the revelation when the appeal application for suspect Priyawansa was taken for hearing.

'Implicate top officer'
The technical evidence has been found as investigations continued with five mobile phone SIM cards found at the murder scene, police said.
TID objected to granting bail claiming the danger of suspect fleeing the country if released on bail.
The court accepting the objection adjourned the hearing until 11 July.
In an earlier statement to Mt Lavinia magistrate Nirosha Fernando, suspect Priyawansa alleged that the TID forced him to implicate a top military official in the murder.
TID Officer in Charge (OIC) Prashan Alwis has offered a job abroad if suspect Priyawansa implicated the top officer, according to the statement.
BBC Sinhala