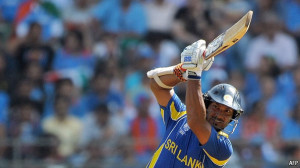 Star batsman, smart operator
CRICKET is supposed to uphold the virtue of fair play. The preamble to the Laws of Cricket talks about "the spirit of the game"; their English custodians even hold an annual "Spirit of Cricket" lecture at Lord's in London, the game's home.
In Sri Lanka, cricketers have long been a source of inspiration for a troubled island: not just for their sporting prowess (the national team punches far above its weight) but also for their capacity to unite. During the years when Tamil Tiger terrorists fought a bloody war against the Sinhalese-majority state, the national team's most successful player—the most successful bowler the sport has ever seen—was a joyful Tamil, Muttiah Muralitharan.
But in Sri Lanka, it seems, politics can spoil anything, even cricket. On July 4th, giving the annual spirit of cricket lecture, Kumar Sangakkara, captain of the national side until April and still a test player, said "a mad power struggle" was destroying the accountability, transparency and credibility of Sri Lanka's cricket administration, called Sri Lanka Cricket (SLC). He said the solution might lie in a proposal by the International Cricket Council, the sport's governing body, to suspend national boards where there was direct political interference and allegations of corruption and mismanagement. As SLC has been run by government-appointed committees since 2004, Mr Sangakkara's criticism will hurt.
In 2010 the then sports minister rated Sri Lanka's cricket body as the third-most corrupt institution in the country (behind education and the police). He was later sacked. Mr Sangakkara is the first active player to criticise the way the sport is run, and to an international audience. At Lord's he got a standing ovation. At home he did not.
Sri Lankan law empowers the sports minister to sack elected administrative bodies (such as SLC), and appoint temporary committees instead. He even gets to approve who plays in the national side, overruling professional selectors. Unofficially, he takes recommendations from the president. Control of cricket, which brings in oodles of money and commands rapturous popular support, is seen as too important to be left to the vagaries of elections. In practice, interim committees have become the norm.
In Sri Lanka Mr Sangakkara is renowned for his integrity as well as his cricketing skills. The media welcomed his views as a reflection of public fury at the blatant politicisation of a national obsession. The Island, a pro-government newspaper, said he had spoken home truths to "inefficient, corrupt Sri Lankan cricket administrators and pompous, overbearing political nincompoops".
The government was less charmed. The sports minister, Mahindananda Aluthgamage, rushed into a late-night meeting with the president, Mahinda Rajapaksa. Sounding flustered, he told reporters that Mr Sangakkara had been out of line: "He has to get permission. He can't talk about the cricket administration or cricket." Mr Sangakkara is enjoying a respite because his national side is playing a series of games against England. He may face demands for an accounting when he returns. But he has a strong following that has just become even more zealous. The government might do better to concede this one.

The Ecomomist