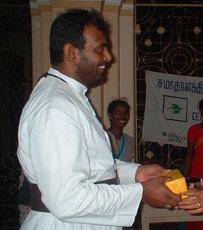 Rev. Fr. Praveen OMI
Sri Lanka's Terrorist Investigation Department (TID) grilled Rev. Fr. Praveen OMI, Director of the Centre for Peace and Reconciliation (CPR) in Jaffna, for 7 hours on Tuesday, news sources in Jaffna said. TID personnel who went to the office of the centre at No 8, Grousseault Road in Jaffna by 8.30 am, subjected the priest to intense investigation until 3.30 pm. The entire office was searched and files and documents were scrutinized. In addition, Fr. Praveen has been ordered to go to the 'Fourth Floor' (CID headquarters) for further investigations on Friday.
The CPR, an organization affiliated to the Catholic Church in Jaffna was actively involved in dealing with cases of abductions and disappearances of people in Jaffna.
In March 2012, a gang of armed personnel, allegedly from the SL military intelligence, entered into the CPR office and attacked the civilians who had gone there for receiving free legal assistance.
Residents of Jaffna are shocked at the treatment meted out to a respected person like Rev. Fr. Praveen who was doing meaningful human rights work.
But in recent times it has become a routine for the TID to summon and conduct terrorising investigations even on people like the Bishop of Mannaar, Rt Rev. Rayappu Joseph and the President of the Jaffna University Teachers' Association, Dr. Rajakumaran, political observers in the island commented.
The President of Tamil National People's Front (TNPF), Gajendrakumar Ponnambalm too has been summoned by the TID for investigations.
TID functions directly receiving orders from the SL Defence Secretary and presidential sibling, Gotabhaya Rajapaksa
TN