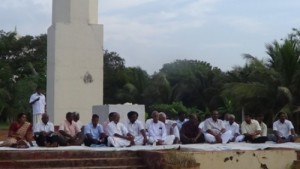 Sathayagrahaya
The Tamil National alliance led Sathyagrahaya

calling for the release of arrested Jaffna University students went ahead despite the intimidations by

an 'unidentified group '.

The night before the start of the Sathyagrahaya ( 21) goons of the paramilitary had destroyed the roof of the platform built for the event. The destroyed roof was found in a near by garbage canal. This is a blatant disregard and disgraceful attack on peoples basic right of peaceful assembly.
A day earlier Tamil National Alliance Jaffna district parliament member Mawai Senathiraja informed the hSathyagrahayaannounced by Tamil National Alliance Parliament member S.Sritharan, will be held on Friday appealing the release of four Jaffna university students arrested under terrorism prevention law.
A spokesman for the TNA has told Vanni Post that they suspect military intelligence for the dastardly act.
A photo of the Sathyagrhaya follows: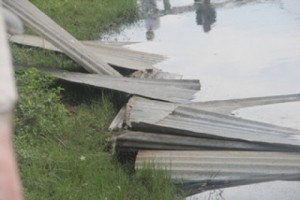 Roof thrown in to a canal