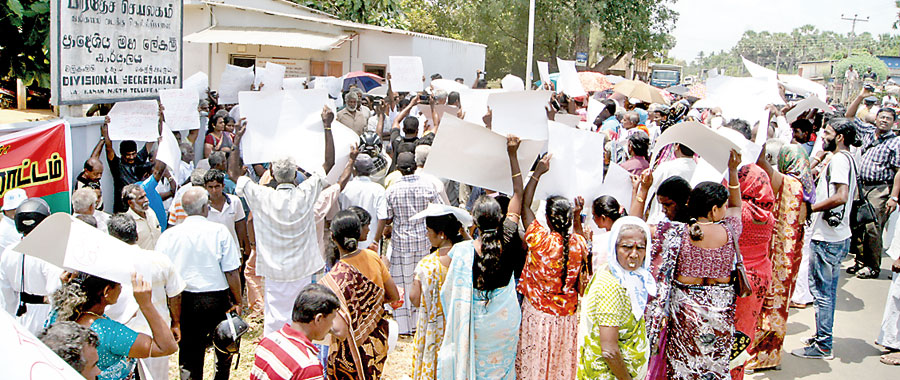 Landowners
Landowners hold a demonstration in front of the
Pradeshiya Sabha Tellipalai. Pic by T. Premananth
More than 1000 Jaffna landowners are to file petitions in courts against an alleged land grab by the military in Valligamam north that local MPs claim is causing severe concern among civilians.
Landowners held a public demonstration last Sunday in front of the Pradeshiya Sabha Tellipalai demanding the return of their lands.
Nearly 10,000 acres was acquired by the military in the early 1990s and declared a high-security zone.
This resulted in the displacement of 90,000 people from the Valigamam north and south-west divisional secretariats. TNA MP M.A. Sumanthiran said that in 2006 the Court ordered the Ministry of Defence to explore the possibility of releasing the lands in Valigamam north to the owners given the current situation, and a committee was appointed to look into this without causing any hindrance to national security.
The committee included the Jaffna High Court Judge, District Secretary and Jaffna Security Forces Commander.
Up until November 2011, nearly 50,000 persons were able to return to their lands following recommendations by the committee.
After the establishment of a Lands Secretariat in Jaffna Kachcheri in 2012, the military acquired 6000 acres to expand the Palaly garrison and push forward the defence line.
Mr Sumanthiran said that under the Land Acquisition Act no private property could be acquired for any reason other than the benefit of the local people.
"We are going to challenge this as 35,000 people are still displaced," he said.Mr Sumanthiran said more than 5000 cases would be filed in courts. "We do not (seek) to find justice to Tamils by going to the courts – yet the cases will have an impact and give a message to the government as well as the international community," he said.
"Contradictory to expectations, all of a sudden land acquisition notices have been expedited not only in Jaffna but also in Kilinochchi, Mullaitivu and Mannar," Mr Sumanthiran said.Landowners say that Minister Douglas Devananda had previously given assurances that once the war ended, people would be given back their land.
The Minister of Lands, Janaka Bandara Tennekoon, said the Lands Office had been opened in Jaffna according to the recommendations of the LLRC in order to solve land issues. "We have acquired land according to the law of this country," he said.
ST