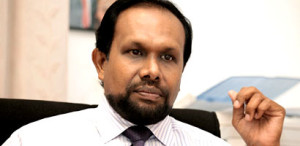 Lakshman Hulugalle
The government is employing the Prevention of Terrorism Act in order to suppress the opposition political leaders of South and Azad Sally the leader of the National United Front (NUF) was arrested under the particular regulations.
Former Deputy Mayor of the Colombo Municipal Council Azad Sally was arrested on May 2nd from his house in Kolonnawa for allegedly attempting to stoke the fires of ethnic and religious strife and harm national unity and a letter by the Defense Ministry regarding the arrest has been provided to him.
Media Centre for National Security (MCNS) Director General Lakshman Hulugalle said Azad Sally was arrested by the Criminal Investigation Department (CID) following several complaints received by the CID regarding conduct which could damage ethnic harmony, and harm national unity.
Hulugalle further said that He was taken into custody under Section 120 of the Penal Code and provisions under the Prevention of Terrorism Act. He is currently being questioned by the CID and legal actions will be taken against him following the questioning, he said.
The police spokesperson had not made any comment regarding the arrest of Azad Sally. The attempt to contact the spokesman was unsuccessful and he has not given out proper information on the arrest to any other media institution as well.
Minister Wasudewa Nanayakkara had recommended amendments to the Penal Code as it does not consist sufficient provisions to convict the people causing ethnic or religious unrest. The reason for his particular suggestion is the prevailing situation where many organizations are involved in various actions with the aim of causing damage to ethnic and religious harmony.
The government did not employ the regulations of the Penal Code and provisions under the Prevention of Terrorism Act to take measures against Sinhala Buddhist organizations which conspire and act against the religious and ethnic minorities in Sri Lanka.
Tamil National Alliance (TNA) MP Suresh Premachandran questions the legality of the arrest made under the Prevention of Terrorism Act as Azad Sally is a politician who fights for democracy not an armed terrorist. He presumes the arresting of Azad Sally as revenge over the opposition politicians who raise their voice against the government.
The United National Party (UNP) MP Lakshman Kiriella has also expressed his discontentment towards the arrest stating that he cannot be convicted for fighting for the rights of the Muslim community in Sri Lanka and questioned the legality of the arrest.
The National Organizer of Muslim Congress Rafik Rajabdeen has expressed his discontentment towards the arrest stating that only step he has taken is speaking for the Muslim community in the country. He condemns identifying Azad Sally as a terrorist and requests the immediate release of him.