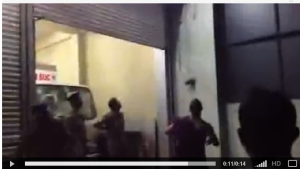 A Buddhist monk attack Muslim owned Fashan Bug on 28th March 2013
(Xinhua) The Human Rights Commission of Sri Lanka (HRC) on Friday warned that a "dangerous national issue" has arisen in the island nation as a result of the recent religious tensions in the country.
The commission said that it is concerned that state institutions responsible for the implementation of the rule of law and for ensuring peace are silent on this matter and that the tensions could lead to the creation of mistrust within different communities resulting in these communities growing apart from one another.

"It need hardly be mentioned that it could lead to a dent in social well being and progress of society. It is clear that these issues could be resolved by means of social dialogue, consultations and discussions. Arbitrary action on the part of different religious groups results not only in contravention of their religious doctrines but also in a situation of grave concern with regard to the progress of society," the commission said.
The commission also noted that it is absolutely essential that political parties, groups or other organizations do not use the situation to their advantage for political or other objectives.
"It must be emphasized that it is the responsibility of everyone to act with a common understanding and grave responsibility on occasions such as this when dangerous national issues arise," the HRC said.
A hate campaign against Muslims and Catholics has erupted in the island nation with several incidents reported within the past few months of mobs allegedly attacking Catholic pastors and Muslim business owned establishments.
A recent SMS sent out to local journalists by the media unit of the Bodu Bala Sena, a Sinhalese monk group, had also created a lot of controversy in the country when it had urged them to gather support against Muslim owned outlets in Sri Lanka.
The SMS called on the general public to purchase items for the upcoming Sinhala and Tamil New Year from non-Muslim stores
XINHUA