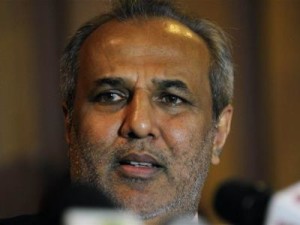 Hakeem: Not an isolated incident
Sri Lanka Muslim Congress Leader and Justice Minister Rauff Hakeem has requested President Mahinda Rajapaksa to convene a cabinet meeting to discuss the 'rising religious unrest and civil disturbance' in the country.
"The Minister has also contacted Senior Minister MHM Fowzie – currently out of the country- and Ministers Rishard Bathiutheen and ALM Athaullah regarding the matter", a press release issued last night by the SLMC said.

It said: "The Minister wishes to take this opportunity to record his patent displeasure and condemnation on the attack on a private business site, last evening. He believes that this was seemingly carried out as a sequel to the ongoing attacks on the religious places and hate campaigns against Muslims and other religious minority communities in the country. As such, Minister Hakeem says he is constrained not to treat this as an isolated incident and that he is equally dismayed at the ineffective response on the law and order machinery in containing the spread of such violence and unrest that fuels insecurity and peace of all minority communities in Sri Lanka.
He says that we believe the 30-years of civil unrest, violence and bloodshed confined to the North and East is now over. What we are now witnessing is unrest and violence has extended to the rest of the country, threatening post war religious freedom with the potential to lead our multi ethno-religious communities to irreversible depths of antagonism once again.
The President and his powerful good office that contained violence and bloodshed in the past, he believes, can and will spend no time in curbing such violence too, by nipping it in the bud.
He further stresses that the duty and responsibility for the protection of people must be borne by the legitimate government and the State apparatuses of the country alone. No religious extremist/militant element can take the law onto themselves nor should they provoke others, he said. The Justice Minister appealed to the President and the revered Buddhist high prelates to take proactive action to stop this spread of religious attacks and intolerance."
IS