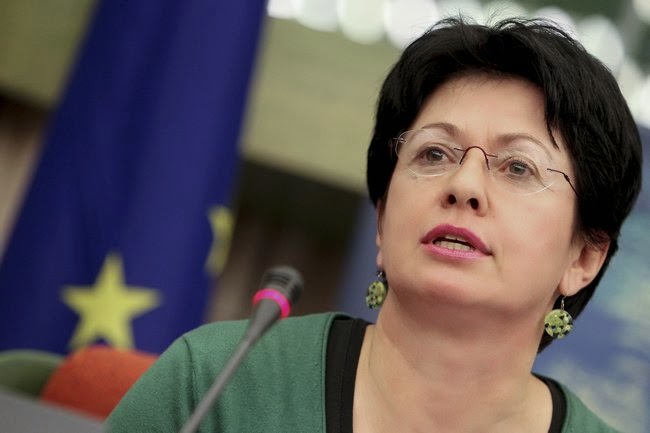 Barbara Lochbihler, MEP writes to GoSL AMB
Re: Sri Lanka – Arrest and detention of human rights defenders Ruki Fernando and Rev. Praveen Mahesan
Dear Ambassador Amza,
I am writing to you concerning the arrest of the human rights defenders Mr Ruki Fernando and Rev. Praveen Mahesan, who were both arrested and questioned by officers of the Terrorist Investigation Division (TID) in Killnochchi, in northern Sri Lanka on Sunday 16 March 2014. Ruki Fernando is an adviser to INFORM, a human rights documentation centre in Colombo, and Rev. Praveen Mahesan of the Oblates of Mary Immaculate (OMI) the director of the Centre for Peace and Reconciliation in Jaffna.
On the morning of 17 March, Ruki Fernando's parents were issued with a Notice of Arrest stating that he had been arrested by the TID on alleged acts of terrorism and would be held for further investigation. It is not clear whether the family of Rev. Praveen Mahesan received a similar notice. At 1:30 p.m., the police confirmed that the human rights defenders had been brought to the TID Headquarters in Colombo. It is unclear whether charges under the Prevention of Terrorism Act (PTA) have been formalised.
The two human rights defenders were arrested at approximately 10 p.m. on 16 March while visiting the Tharmapuram area of the Kilinochchi district to investigate the arrest on the previous day of Ms Balendran Jaykumari, a human rights defender campaigning against enforced disappearances, and her 13-year-old daughter. The police initially denied having detaining Ruki Fernando and Rev. Praveen Mahesan, but later confirmed that they had been arrested by a specially appointed unit of the TID. The office in charge of the Kilinochchi police further stated that they had been arrested as "they behaved in a suspicious manner" as they visited families of disappeared individuals.
The arrest of the two human rights defenders occurred while the United Nations Human Rights Council discusses a draft resolution on reconciliation, accountability, and human rights in Sri Lanka.
I am deeply concerned about the detention of Ruki Fernando and Rev. Praveen Mahesan, and believe that their arrest is solely motivated by their legitimate human rights work.
I urge the authorities in Sri Lanka to:

1. Immediately and unconditionally release Ruki Fernando and Rev. Praveen Mahesan, as their arrest appears to be solely motivated by their legitimate human rights work;

2. Ensure that the human rights defenders have immediate and unfettered access to their families and lawyers;

3. Ensure that their treatment, while in detention, adheres to all those conditions set out in the 'Body of Principles for the Protection of All Persons under Any Form of Detention or Imprisonment', adopted by UN General Assembly resolution 43/173 of 9 December 1988;

4. Guarantee in all circumstances that all human rights defenders in Sri Lanka are able to carry out their legitimate human rights activities without fear of reprisals and free of all restrictions.
Yours sincerely,
Barbara Lochbihler, MEP
Chair of the Subcommittee on Human Rights,Europien Parliament
NB: Similar requests have also been sent to the Ambassador of Sri Lanka to Germany in Berlin, HR/VP Ashton and EUSR on Human Rights Stavros Lambrinidis.