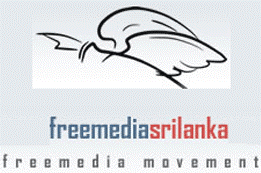 17th March 2014/ Press Release
The Free Media Movement (FMM) unequivocally condemns the arrest of Ruki Fernand of INFORM, Human Rights Documents Centre, Colombo and Rev. Fr. Praveen Mahesan, former Director of the Centre for Peace and Reconciliation (CPR), Jaffna by the Terrorist Investigation Division (TID) of the Sri Lanka Police. The FMM strongly calls on the authorities to release them immediately, without any mistreatment.
Ruki Fernando is a leading Human Rights Defender (HRD) in Sri Lanka, who works tirelessly with immense commitment to protect and promote democratic rights including freedom of expression rights. For his dedication and readiness to help he has earned huge respect among the colleagues. He is also a close associate of the FMM. Ruki Fernando has written number of articles documenting human tights violations in Sri Lanka. He is a Human rights documentary writer. Rev. Fr. Praveen Mahesan too is a religious leader who enjoys people's confidence and respect for his dedication to humane ideals, including human rights.
This arbitrary arrest has reconfirmed the intensifying suppression of human rights activists every time the Government of Sri Lanka (GoSL) comes under human rights scrutiny. Arrest of two human rights defenders, who were meeting people in Kilinochchi area to investigate recent police and military harassments to villagers, is in fact a censorship by arrest. The villagers are engulfed in a fear-psychosis after the arrest of the two HRDs, who were documenting the rights violations. This will effectively place a lid on people's right to speak and information.
The FMM would like to warn that because of short sighted and unlawful acts of the political and other authorities in the country, such as arrest and detention of two well known HRDs at a time the country is facing an unfavorable international situation, Sri Lanka may be transmitting a dangerous signals to the international community.
In this context the FMM urges the GoSL to ensure that both Ruki Fernando and Fr. Praveen Mahesan is not harmed and to release them immediately. At the same time the FMM requests the GoSL to discontinue its suppression of fundamental human rights of the people of Sri Lanka as well as the HRDs, who are fighting to protect them.