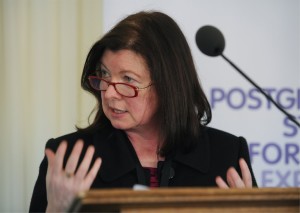 DR. Roberta Blackman-Woods: reduce military presence in North
Dr. Roberta Blackman-Woods who led the British delegation to the Common wealth Parliamentary Association Conference on Friday called for greater transparency on the part of the government with regard to issues of re-development and reconciliation.
"I think the government needs to be more open and transparent about what has been done and what is left to be done and be more confident in their own ability to deliver," she told the Daily Mirror.

She echoed the statements by the US and called for the reduction in the military presence in the North. "I do think there was heavy military presence there. I think it needs to be reduced and the whole situation needs to be stabilized, with some sense of devolution of power and responsibility to local people there. I think that has to happen," she said.
Dr. Blackman-Woods said countries should not be given the option to opt out of attending the Commonwealth Heads of Government Meeting (CHOGM) to be held in Colombo next year. "I personally think that is unfortunate. I suppose you have to always give people a choice about attendance, but I think it should be discouraged," she said.
She also agreed with the Britain's travel warning towards on Sri Lanka, after having appraised the situation here for herself. "I think that is an issue that needs to be discussed between the two governments and some proper understanding needs to be arrived at. I think the two governments need to use their diplomatic services to resolve the issue," she said.
(Dianne Silva)DM