A new Business Times (BT)-Research Consultancy Bureau (RCB) poll this week, just as the momentum takes off in the August 17 election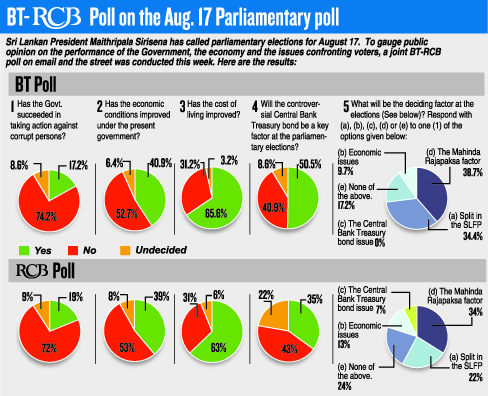 Print
campaigning, has concluded that many respondents feel the Government has failed to take action against corrupt persons.
A majority view however was that the cost of living had improved under the present regime even though economic conditions (in general) haven't improved, the street-cum-email poll showed.
Surprisingly, the JVP – often considered the third force – didn't figure at all in the comments sent by respondents. Part of the popular BT-RCB poll series, this week's survey in which over a 1,000 people were polled also revealed that respondents in both the street (RCB) and email (BT) survey had similar views on most questions asked. For example, to the first question "Has the Govt. succeeded in taking action against corrupt persons?" 74.2 per cent of the email respondents said "No" while 72 per cent gave the same response in the street poll. To question (2) "Has the economic conditions improved under the present government?" 52 per cent of BT respondents said "No" compared with 53 per cent (RCB) with a "No" response.
Given five choices as to what would be the deciding factor at the poll, 38.7 per cent (BT) and 34 per cent (RCB) voted for the "Mahinda Rajapaksa factor'. The next popular choice was "Split in the SLFP" – 24 per cent (BT) and 22 per cent (RCB).
What is increasingly evident in polls of political and economic interest over the past year and in particular this week's poll is that issues concerning Sri Lankans (a cross section of society was represented through the respondents) are common to many. Asked to comment on this interesting phenomenon, Ravi Bamunusinghe, Founder/MD of RCB, said that currently a wide section of society appears to share similar views on issues of political, economic and national interest. RCB interviews were conducted on the streets of Colombo.
As per the other two questions in the poll, 65 per cent (BT) and 63 per cent (RCB) said the Government had done well to reduce the cost of living. There was also agreement that the Central Bank bond issue is unlikely to be a major (pull) factor at the poll with only 35 per cent (RCB) agreeing that it will while the "Yes" vote from BT respondents was 50 per cent.
Respondents in the email poll covered the middle and upper income groups while the street poll covered the rest of the population demography.