( Minister Samarasinghe had to face number of defeats at the UNHRC)
Former Minister for human rights in Sri Lanka under Rajapaksa regime says that United Nations Human Rights Council of relentlessly pursuing a political agenda on Sri Lanka, reports The Island.
Mahinda Samarasinghe, now Minister for Skills Development and Vocational Training and ardent supporter of President Sirisena, has dismissed the claim of 40,000 civilians deaths in the Vanni during the last phase of the war as a lie created by former UN Spokesman in Sri Lanka Goden Wise. He has futher called the UNHRC as a political outfit.
He was one of the few minsters that accompanied the president Sirisena to UN general assembly recently.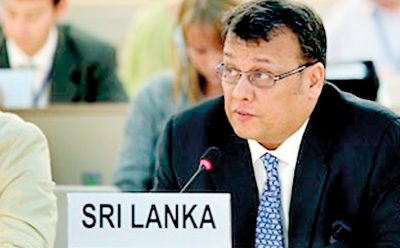 He represented the previous Rajapaksa administration at regular Geneva sessions and defended all the wrong doings of the Regime.
Minister Samarasinghe has said that Tamil speaking public officials on behalf of the Department of Census and Statistics had conducted a comprehensive survey at the conclusion of the war to ascertain the number of dead and other related data.
But he has not provided any observations of the said census.
While reiterating to inquire into allegations during the war as well as the post- conflict period and punish those responsible regardless of their status, Minister Samarasinghe insisted that there had never been a deliberate policy to harm Tamil speaking people. The minister strongly denied accusations that civilians had been intentionally targeted in accordance with state policy.
At the same time Minister has reiterated the need to sustain diplomatic relations with Sri Lanka's traditional friends, such as China, Russia and Pakistan, Minister Samarasinghe and has underscored the need for close cooperation with Western powers in spite of them moving three successive Geneva resolutions targeting Sri Lanka in addition to various other adverse reports.
Minister Smaasinghe has futrher said that the government, especially Prime Minister Ranil Wickremesinghe and Foreign Minister Mangala Samaraweera worked hard to do away with the hybrid court and international investigation from the adopted Geneva resolution.