Media Statement from the People's Movement against the Port City.
People's movement against the port city at its meeting held on the 22nd of January at No. 64 Chilaw Rd, Negombo decided to vehemently protest the continued mining of sand less than 10km from shore by the CHEC with flagrant disregard to the undertaking by the Deputy Minister of Megapolis Mr. Alagiyawanna in October, 2016. Deputy Minister Alagiyawanna made this promise to fasting fishermen in Negombo who taking the GoSL at their word ceased their strike after five days.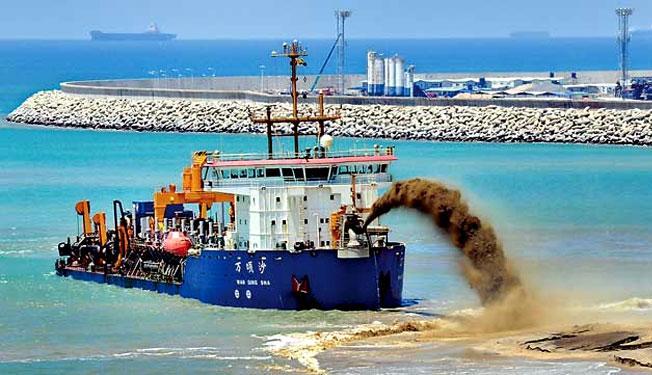 The promise was made in the presence of the fishermen and the Catholic Church authorities and was shown on national television. The website www.marinetracking.com provides 24 hours updates of the locations of the two dredgers, (JUN YANG 1 & WAN QING SHA) currently in operation and any person is able to see that dredging is being carried out less than 6-7 km off the coast. The visual observations of the fishermen confirm the website data and the fishermen have GPS located photographs of the dredger in operation.
However, the inaction of Mr. Champika Ranawaka the Minister in charge of the Megapolis and his deputy Mr. Alagiywanna indicates the undertaking was a cynical misdirection designed to hoodwink the fisher folk and the Church authorities.
Our position as the People's Movement against the Port City from its very inception has been that the land fill is unnecessary, unwarranted and hazardous not just to the livelihood of the fisher folk (as clearly stated in the SEIA) but also potentially to the whole Western seaboard as claimed by the incumbent Prime Minister when he sought the public's mandate to cease the whole project.
The destruction already caused to the Western coast at several places from sand mining activities prove beyond doubt that the project is harmful to the physical and social environment.
Therefore, while reiterating the same position once again, we demand the President and the Prime Minister to cease this project forthwith.
People's Movement against the Port City
Conveners
Fr. Sherard Jayawardene. 071 4259133
Fr. Sarath Iddamalgoda 0714 315124
Mr. Aruna Roshantha 071 534 4570