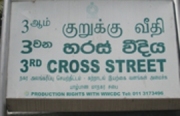 The Presidential Task Force for a Trilingual Sri Lanka headed by the Secretary to the President Lalith Weeratunga held its preliminary discussion at BMICH today. The seven-member Task Force discussed various issues and practicalities about learning a second language.

The Task Force included Secretary to the President Mr. Weeratunga, Sunimal Fernando, Advisor to the President, Prof. J. B. Dissanayake, Kumar Nadesan, Earle Fernando, Ms. Marina Mohommed and R. C. Karunakaran.
Speaking at the discussion, Secretary to the President said learning a second language should be taken very seriously and different communities in the country have already shown a keen interest in learning each other's language.
President Mahinda Rajapaksa declared 2012 as the Year for a Trilingual Sri Lanka last year.
A 10-year National Action Plan was also launched in 2011. This plan will be implemented together with ministries of National Languages and Social Integration, Education, Higher Education, Public Administration and Provincial Councils.
Trilingual initiative is one of the recommendations by the Lessons Learnt and Reconciliation Commission.
NL