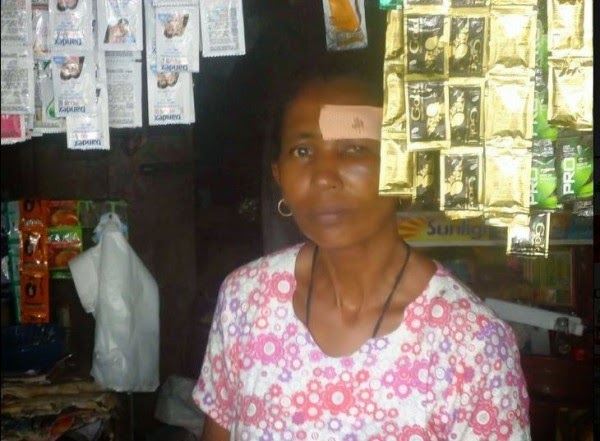 D.B.S.Jeyaraj
Fathima Thahir is a Muslim woman in her forties who manages a small provision store owned by her family in the Colombo suburb of Battaramulla. The store "Fathima Stores"was named after her by her father who founded it in 1949 long before Battaramulla experienced the current scale of urban development."Fathima Stores" on 192 Main Street is the only Muslim owned shop in the vicinity and is well-known for selling bulath/vettrilai/betel.
In spite of the name "Fathima Stores" the shop is not a big business but merely a large boutique.The profits are not huge but adequate to take care of the family expenses.The family itself lives on the premises behind the store.
The shop and the family have got along well in the predominantly Sinhala neighbourhood.Sixty-five years of amicable co-existence came in for a rude shock on Sunday night when a rock was flung in the dark at Fathima by an unknown person who ran away.
Fathima Thahir's face was hit by the rock.She sustained injuries and is bandaged.The injury caused is not serious. Nothing has happened to the shop or rest of the family. Despite the injury ,Fathima herself is back at the counter running the shop.It is business as usual and things seem to be normal on the surface.
But appearances can be deceptive. What has been damaged is not the shop but the trust and confidence held by a single,helpless family. The real injury caused is not physical but emotional.
I can empathise with these hurt feelings of insecurity because this is what I –born and bred in Colombo- first felt when experiencing anti –Tamil violence.This was the experience of so many other Tamils who had lived together with other ethnicities in mixed areas. This is what so many Muslim families who have lived for years in mixed areas are feeling right now.
Apart from attacks on homes ,many big establishments employing large numbers of people are being torched. Businesses are burnt in trouble spots.The damage is quantified in rupees and cents. What is overlooked is the dedication ,hardwork and enterprise that went into these establishments. What is not realised is the extent of ruined hopes that lie in the charred embers amidst the debris of destruction.
When compared to the scale of anti-Muslim violence in other areas the Battaramulla incident is of a very minor nature. A solitary, simple instance of a single rock being thrown.Hardly worth writing about in the current context where violence of a major nature is being unleashed.
Nevertheless when I read and heard about this incident I was affected .The stories of the "little people" and their struggle to survive have always touched me.The story of how "Fathima Stores" originated and grew is a remarkable saga of the "small man" creating a new world in an unfamiliar place through hard work.
Fathima's father Thahir was a native of Beruwela. He came to Battaramulla and started this small boutique on main street near the junction. Battaramulla was not as developed as it is now. When Thahir started the boutique in 1949 the monthly rent for the premises was only 25 rupees. Fifty year later in 1999 ,Thahir was able to buy the building. It was named "Fathima Stores" after his eldest daughter.
Thahir specialised in selling betel. He would travel daily to Pettah and purchase fresh betel leaves, arecanut, lime and tobacco. He would then roll the betel in sheaves and small bundles and sell them.He also supplied other shops and households.Gradually he began selling other provisions and small products too.The chief merchandise however was betel.
Thahir lost his wife early. He brought up his six children all of them daughters on the income earned through this shop. The family lived on the premises and the children helped the father in the shop.Four sisters are now living elsewhere with their families. Fathima is single and living with one of her sisters and her children in the Battaramulla shop.
After her father's death in 2007, Fathima began managing the shop. Like her father she travels to Colombo regularly and purchases necessary stuff.She is well known in the Battaramulla bazaar and enjoys good relations with all. Life sailed smoothly even though anti-Muslim violence erupted in Aluthgama and her father's home town Beruwela.
On Sunday June 29th Fathima Thahir was locking up her premises on the outside. It was past 10 pm and dark. Suddenly an unknown person sneaked behind her at close quarters and as she turned, flung a heavy rock at her.It struck her on her face and eye.The unknown assailant ran away
Fathima fell down screaming in pain. Her sister rushed out.So too did neighbours and others. The Koswatte Police was informed. The Koswatte Police station's Officer in Charge himself arrived and took her to the Koswatte hospital where she got medical treatment. A constable was stationed at the premises for a day. A senior police DIG also visited her.Since no description of the assailant is available there is little action to take.
The attack on Fathima Thahir seems to be an isolated one and not part of an organized conspiracy as has happened elsewhere.Since the nature of the incident was minor, it did not attract much attention.
Many of Fathima's Sinhala neighbours,friends and fellow shop owners are currently calling over with offers of help and messages of sympathy.There was however no time to rest or recuperate. Fathima Thahir is back at the counter and it is business as usual in the store.
As I stated earlier this incident is not as grave as the other incidents of anti-Muslim violence proliferating in the country nowadays.Yet it throws light on how fragile the situation is and the precarious nature of existential realities in Sri Lanka.
Amidst the sabre-rattling din about Muslim extremism and the money made by Muslim millionaires , there is also the reality of little people like Fathima Thahir and family depending upon the store built from scratch by their hard working father. May they lead their simple lives safely and may their tribe increase.May thid blessed island live up to its name of "Deiyange Rata"or God's own country.