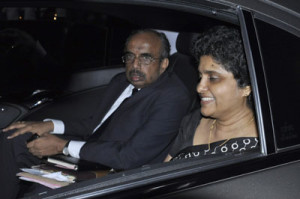 CHIEF JUSTICE SHIRANI BANDARANAYAKE LEAVES PARALIAMENT TODAY : BY SUSANTHA LIYANAWATTE
Chief Justice Shirani Bandaranayake has walked out of the Parliamentary Select Committee (PSC) hearing the Impeachment Motion, her lawyers said.
They said she would not return to it as she had no faith in it.
The Timesonline learns that the lawyers had objected to the failure to provide the list of witnesses and documents in addition to the failure to spellout the procedure in conducting the sittigs.
Also complains had been lodged about the conduct of some of the members.

The PSC began sittings at 2.30p.m. today and adjourned around 5.05 p.m. for a tea break and met again about 40 minutes later. Within few minutes the Chief Justice and her team of lawyers walked out due to disagreement with the Government member's on the Committee.
One lawyer said that a Chief Justice had been spoken to in an insulting manner by some members.

The sittings have been fixed for Friday 1.30 p.m.
ST