By Sarala Emmanuel, Red Flag Women's Movement.
As you sip your tea this International Working Women's Day, the women growing and plucking much of the tea consumed in the world in the plantations in Sri Lanka are on the street protesting. After a struggle that lasted decades, the Sri Lankan government's Labour Ministry, in 2021 issued a Gazette that increased their wages by 900 LKR and declared that workers will be given an additional LKR 100 as a budgetary allowance. Simultaneously, the government removed the wage issue from the Collective Agreement between the Plantation Employers' Federation and the Workers Trade Unions and enacted this change through the Wages Board instead.
Following this, the Employers' Federation has refused to sign the Collective Agreement with the Workers Trade Unions and have actively perpetuated numerous violations of labour rights. Workers are not getting the increased salary. Payments of arrears are not made. The daily targets for workers to ensure they receive their wages for the day has been increased. On most estates, the local management are treating the workers badly, with imminent risk of losing their jobs. Labour department and other problem-solving mechanisms have closed down.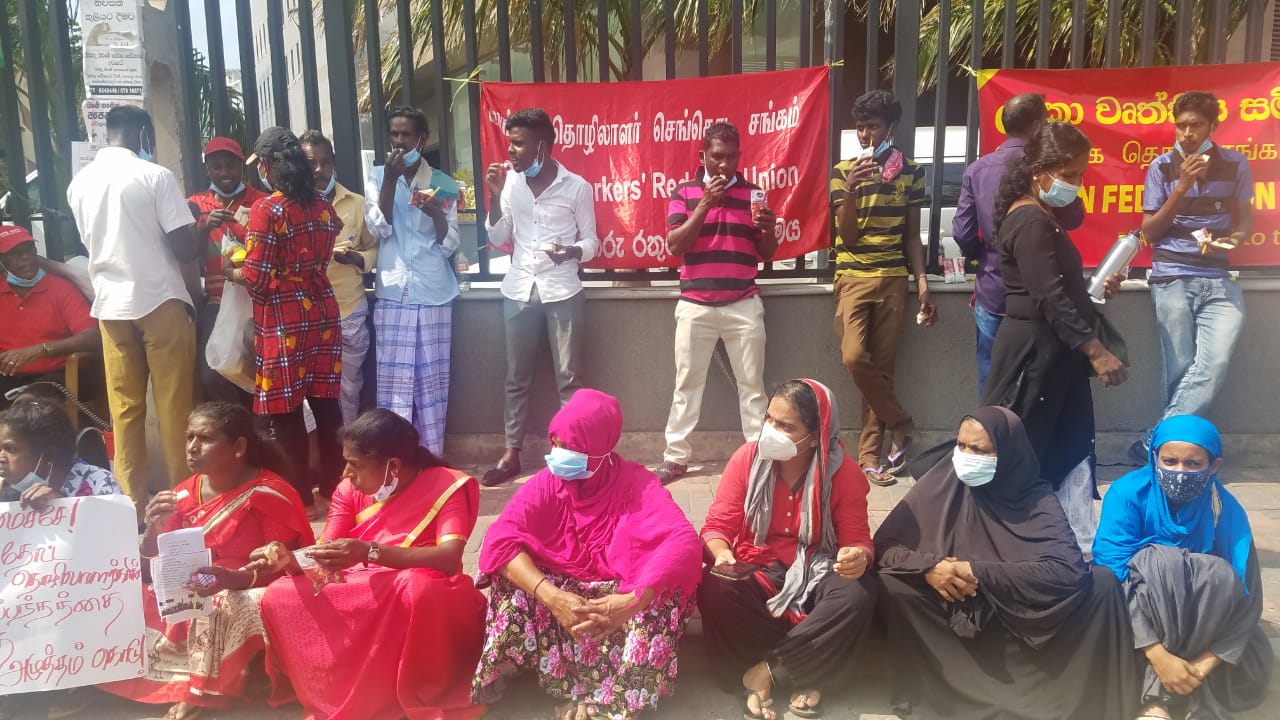 Due to the long history of trade union action, the plantations sector in Sri Lanka has been under the formal sector of employment where workers are permanent cadre with certain labour rights. However, over the past 10 years, private companies with support from the government have been trying to informalize this sector and jeopardize workers' job security and overall rights.
The COVID 19 pandemic has been used as yet another excuse to push for rapid informalization of various sectors, including the plantations. The victory of the workers in securing this slight increase in wages after many decades is being used by the Employers Federation in cahoots with the Government to further marginalize plantation workers and deny their labour rights. This has pushed the entire community of plantation workers into further poverty and an exacerbation of their already existing, less than optimal overall standard of life.
The Ceylon Workers Red Flag Union has been working with over 5000 workers in the tea, rubber and garments sectors. They have been mobilizing workers, building women workers leadership at all levels, and protecting workers rights. They have always made their voices heard when women workers rights have been violated.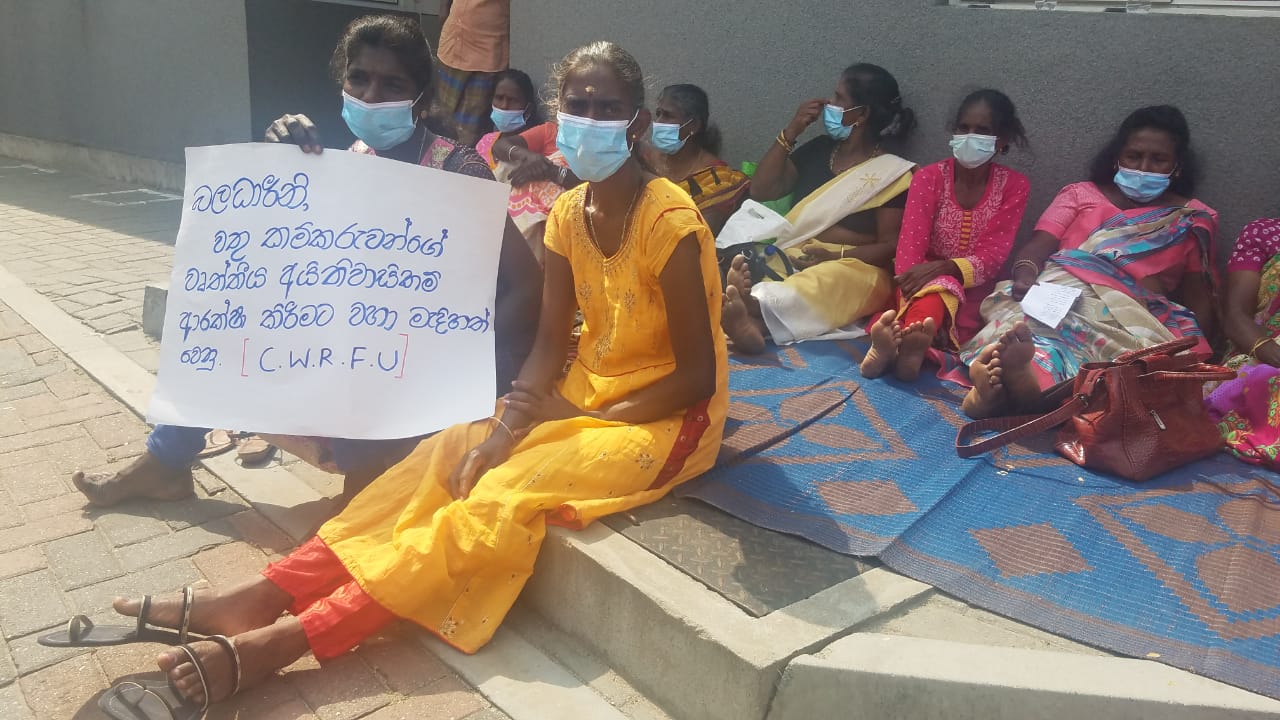 This International Working Women's Day, we must remember that the Ceylon Workers Red Flag Union and Red Flag Women's Movement was the first trade union to fully integrate gender equality within trade union structures and systems, and has been led by women leaders since 2013. The leadership and membership are predominantly women workers across six districts in Sri Lanka.
This current crisis has meant that women workers and women Trade Union leaders are facing imminent risk of losing their labour rights and protections. This will impact their job and income security, which in turn will further increase violence faced by these women at home and as trade union leaders in the public sphere.
This crisis is of an enormous magnitude for the workers who risk losing their livelihood and way of life due to the informalization of a sector that has been in the formal sector for more than a century. It will also cause massive economic and political crisis in Sri Lanka as one of the largest exporters of tea and in the world as consumers of Sri Lankan tea.
The workers have been protesting in their own districts for the past month. Companies have refused to engage with the workers and are actively trying to weaken and destroy these old and strong trade unions. Since the morning of the 7th of March, about 100 workers from across different districts are now engaged in a night and day continuous protest outside the Labour Ministry in Colombo.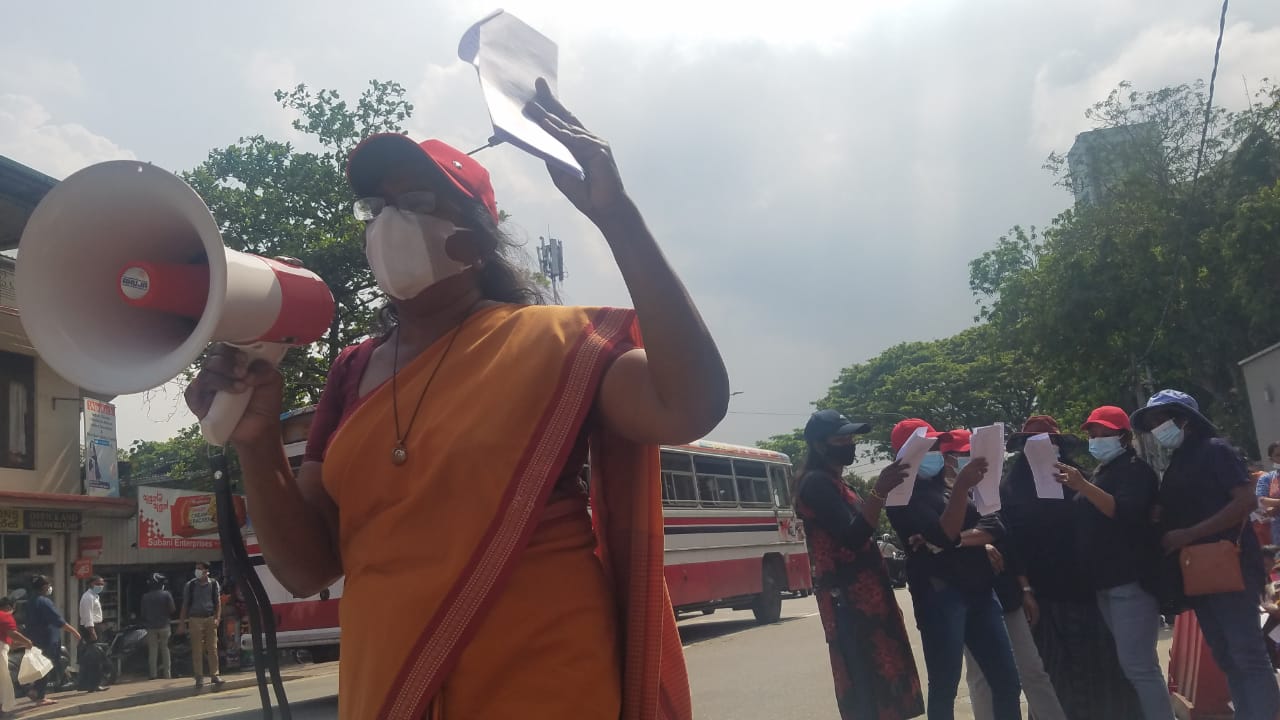 Led by women leaders they will spend this International Working Women's Day on the streets of Colombo fighting for their fundamental labour rights which is also the future for themselves, their family and community. So far, the Labour Minister has addressed the protesting workers and declared that he cannot do anything.  Workers refuse to end their struggle without the Employers Federation agreeing to sign the collective agreement. Till their demand is met, their struggle will continue. And with more than a century of history as witness, we know that the plantation workers of Sri Lanka, especially the women, do not give up and do not waver in their resolve!
So again, as you sip your tea today and the day after, remember that the women responsible for that cup of tea are on the streets fighting for their basic rights as workers, women and as human beings. Please support our call for economic justice!
STOP ATTEMPTS TO INFORMALIZE THE PLANTATION SECTOR
STOP ATTEMPTS TO DESTROY WORKERS' TRADE UNIONS
WE DEMAND WORKERS RIGHTS
SIGN THE COLLECTIVE AGREEMENT
 For further details contact Subha, Media Coordinator for Ceylon Workers Red Flag Union and the Red Flag Women's' Movement at +94-777-162412.
( Images supplied)