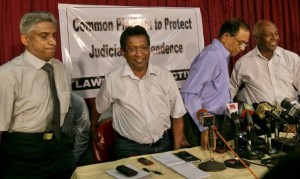 ■Anti-impeachment lawyers being hunted, Collective says
■Call on all members of BASL to elect the 'progressive' candidate as the next President of the Bar
■Claim one BASL presidential aspirant is being backed by Govt.
■Collective pledges to continue the struggle for judicial independence

Dharisha Bastians
Legal activists that rallied against the impeachment of Chief Justice Shirani Bandaranayake were being hounded in the impeachment aftermath, the Lawyers Collective said yesterday.
The Collective, which is an umbrella organisation for several legal associations and senior lawyers, told a media briefing yesterday that all over the country, legal activists were being threatened and intimidated and in some cases, even abducted and released soon afterwards, more than one month after Chief Justice Bandaranayake was sacked from office in violation of two rulings by the country's highest courts.
Many legal activists were under close surveillance, the Collective said.
"In many of these cases, lawyers are choosing not to report the incidents to the law enforcement authorities and have asked that their identities be protected," senior constitutional lawyer and activist J.C. Weliamuna said. "It expresses a lack of faith in police investigations into such incidents," he explained.
Weliamuna said that one young lawyer had been abducted and released a few minutes later by an unidentified group while several anti-impeachment activities continued to receive death threats and intimidating phone calls and letters.
Addressing the media briefing, Attorney at Law Sunil Watawala said that with the witch hunt against Bandaranayake concluded, it was now the turn of the lawyers.
"The struggle for judicial independence and rule of law is a struggle for the professionals to carry forward," Watawala said. "This force will not be stopped," he charged.
The Lawyers Collective also called on all members of the Bar Association of Sri Lanka (BASL) to vote for the 'progressive' candidate at the BASL election next week. They said another candidate was being fully backed by the Government.
"We denounce this politicisation of our institution – we urge all lawyers to vote for the candidate that will guarantee freedom and independence to the BASL," representatives of the Lawyers Collective said.
The Lawyers Collective pledged that they would continue to be a key pressure group within the Bar Association and fully endorsed the candidature of a "progressive" candidate for president of the Bar.
Weliamuna said that the silence of the BASL in the face of the Government's refusal of entry to a high level delegation from the International Bar Association should not be misunderstood as an endorsement of the Government's actions.
"The Bar is in transition with this election, but the Lawyers Collective and Lawyers for Democracy have all roundly condemned the Government's refusal of entry to this delegation, without understanding the international dimensions of this action," he said.
FT