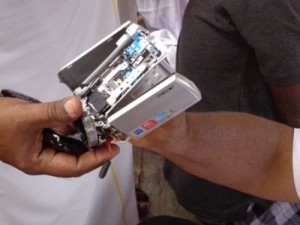 MIlitary dismantled the the Uthyan journalist's camera
15 February 2013
People together with politicians engage in hunger strike protest on demanding to release lands and resettle people at the high security zone in the Waligamam north this afternoon.
Due to the attack tense situation reported in the area. However people were confident on their protest. According to the sources hunger strike protest commenced at 8.30 am this morning. Opposition leader Ranil Wickramasinghe was also present at this site.

More than thousands of people were present at this hunger strike protest. A group comprise with 6 members suddenly arrive to the location ordered people to evacuate from the site. On this time parliamentarians requested police officials to arrest the suspects cause disturbances to the peaceful protest.
However police personals have arrested a suspect and others were taken out by the military personals. Military personals carried out attack against secretary of the Mannippai Divisional Secretariat and the member of the Waligamam North Pradeshiya Sabaha.
Opposition leader Ranil Wickramasinghe delivered special speech at the hunger strike protest currently underway in the Thelipalai area Jaffna. End of the speech group of unidentified personals carried out attack against people present at the hunger strike protest.
Journalist of the Uthayan news paper was also attacked and suspects have taken away his camera. Members of the Tamil National Alliance have field complaint on this alleged attack at the Thellipalai police station.
TNA Jaffna district parliamentarian E.Sarawanabawan hold discussions with army and police personals on this attack.
Military personals have take away the "memory card" and return back the camera towards Uthayan news paper journalist.
lankasrinews