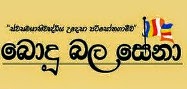 At the special press conference, IGP N.K. Illangakoon confirmed that two deaths that occurred were the results of clashes in Aluthgama on Sunday.
Furthermore, IGP, N.K Illangakoon stated that the rumour that a monk was killed as a result of the Aluthgama clashes is false. However, the Bodu Bala Sena ( BSS) in its official website reported in Sinhalese that there was a monk reportedly killed in the riot by Muslims extremists. But later the website removed the story and updated distorted news on the incident.

Here in the first screed grab of the news published by this extremists' outfit the BBS, which is direct by the Defence Secretary, Lt. Col. (Rtd) Nandasena Gotabhya Rajapaksa, a bother of incumbent president who is now in Bolivia attending the G77 + China summit, reported there was a monk killed by Muslim extremists. But in the second screen grab published here , the BBS later has distorted their first report as we highlighted here.
However, here is the full speech delivered by the head of BBS, Gnanasara Thero;
Meanwhile,the U.S. Embassy condemns the violence that has spread over the weekend in Aluthgama and Beruwela. We urge the government to ensure that order is preserved and the lives of all citizens, places of worship, and property are protected.
We urge the authorities to investigate these attacks and bring those responsible to justice. We also urge all sides to refrain from violence, exercise restraint, and respect the rule of law.
Screen grab of BBS web site