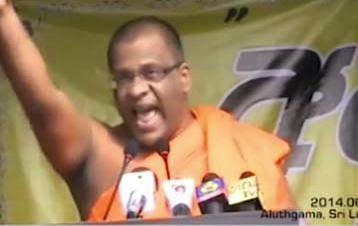 This is a beginning – Gnanasara
ALUTHGAMA Sri Lanka (Reuters) – At least three Muslims were killed and 75 people seriously injured in violence between Buddhists and Muslims in southern Sri Lankan coastal towns best known as tourist draws, with Muslim homes set ablaze, officials and residents said on Monday. There has been increasing violence against Muslims in Sri Lanka since 2012, mirroring events in Myanmar, which has seen a surge of attacks by members of the majority Buddhist community against Muslims.Clashes erupted on Sunday in Aluthgama and Beruwela, two Muslim-majority towns on the Sinhalese-dominated southern coast, during a protest march led by the hardline Buddhist group Bodu Bala Sena (BBS), or "Buddhist power force".

"I just can't understand a government which prevents even a trade union or student protesters going to protest marches … allowing the BBS to conduct the meeting," Rauf Hakeem, justice minister and the leader of the country's largest Muslim party, the Sri Lanka Muslim Congress, told Reuters.
He said Muslims in the area had repeatedly requested authorities to provide them with security.
Many independent analysts say well-coordinated violence against Muslims and Christians appears to have tacit state backing as those involved in previous attacks have yet to be punished. The government denies any collusion.
The separatist Liberation Tigers of Tamil Eelam attacked Muslim villages in the northeast during the 1983-2009 civil war. More than 140 people were killed in a massacre of Muslims in 1990 blamed on the Tigers, which the group denied.
WARNING TO MUSLIMS
A Reuters team in Aluthgama and Beruwela witnessed an uneasy calm and a heavy police presence, with Muslims worried for their safety, many of them sitting on the road in front of their gutted houses.
Police urged people to stay inside their homes. "A curfew is imposed for your own safety. Do not come out of your houses," they said through loudspeakers.
Reuters reporters counted 16 houses gutted by fire.
"The curfew is only for Muslims, not for the rioters," said Fathima Fazniya, a 65-year-old retired teacher. "They (the rioters) came in … lorries behind the police and looted all our houses. Then they torched my house. They are well organized."
Many residents said the police directly and indirectly helped the BBS organization. Police rejected the claim.
BSS WARNS MUSLIMS
The BBS has said its members came under attack when they were protesting peacefully against an assault on a Buddhist monk by a Muslim youth three days earlier.
Before the clash, the general secretary of the BBS, Galagoda Aththe Gnanasaara, warned Muslims against attacking Sinhalese, the majority of whom are Buddhist. "We still have Sinhala police in this country, still we have a Sinhala military. From today, if any Muslim… mishandles any Sinhalese, that will be the end of them," he said at a public rally that was captured on video and downloaded on YouTube.
In a statement on Monday, Gnanasaara said the BBS had not been involved in the clashes and blamed them on "an extreme Muslim group" that had picked a fight with the Sinhalese.
The U.S. Embassy in Colombo condemned the violence and urged the government to ensure that order is preserved and that citizens, places of worship and property are protected.
Police were investigating a shooting in a nearby Welipitiya mosque in the early hours of Monday despite the police curfew. An elite police force official who declined to be identified told Reuters that a group traveling in a vehicle shot at Muslims who tried to prevent them from attacking the mosque. Three were killed and seven sustained gunshot injuries. Residents were unable to communicate with each other due to the curfew and congestion of mobile phone networks.
"My son-in-law, Mohamed Shiraz, was shot in the head after a battle that lasted more than two hours," Mohamed Hassan told Reuters, looking across at his daughter, Shiraz's wife.
"Police did not come at all during this fight and we hear now that he is dead. But I can't either see him or confirm this."
Mohamed Faiser, a 45-year-old shop owner, said police broke into his shop and an adjoining mosque. Another group followed and torched both buildings.
(Additional reporting and writing by Shihar Aneez; Editing by John Chalmers and Nick Macfie)
By By Ranga Sirilal
Reuters