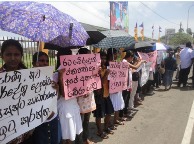 Students protest all over the country
The Human Rights Commission of Sri Lanka has received as many as 1,675 complaints from students whose Z-scores had changed after the re-calculation based on a Supreme Court ruling, officials said yesterday. Commissioner Pratibha Mahanama said the authorities concerned could not go by the previous Z-score calculations, which were declared null and void by the Supreme Court.

He underscored the fact that the Court ruling should be respected and asked the University Grants Commission (UGC) to consult the Attorney General to decide on the steps to be taken regarding students disappointed over their previous Z-scores being changed.
"That is the latest position," he said.
Earlier, Higher Education Ministry Secretary Sunil Jayantha Navaratne said the next university intake could be increased by 3,000 to accommodate even the affected students.
However, the Vice Chancellors Committee said that they had not been consulted on increasing the intake of students.
"If they want to increase the intake, we have to assess the facilities at each university. Some faculties are already overcrowded whereas there is space in other faculties. We have to assess the situation before deciding on any increase in the intake," said a Vice Chancellor who did not wish to be named.(Kelum Bandara)
DM