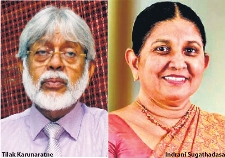 "I'm no baby to be misled", says Sugathadasa
The two former Chairpersons of the Securities and Exchange Commission of Sri Lanka (SEC) have strongly refuted the claim made by Advertising industry specialist turned investor, Dilith Jayaweera that they might have been misled by officers within the SEC Secretariat who had their personal agendas when carrying out their duties.
"How lame for him to assume such a thing? This is irritating. I can assure you that there was no pressure at all and all that I did was through my own conscience," fumed Tilak Karunaratne.
Meanwhile, Karunaratne's predecessor, Indrani Sugathadasa said that she actually felt humiliated by this assumption.

"I don't agree with it all. It's not true. I was there for about 18 months, whatever the decisions we made at the commission meetings, we made sure that we made them only after consulting all the stakeholders including the Colombo Stockbrokers Association (CSBA). And therefore his assessment is not true. I am not a baby to be misled," she asserted.
She further pointed out that she was at the helm of SEC after a 33-year-long career where she had worked with different kinds of people whilst she was well qualified academically as well.
The SEC consists of ten non-executive members and operates through a Secretariat headed by a Director General. The non-executive members constitute the policy making arm of the SEC.
Six members are appointed to the Commission by the Minister of Finance taking into consideration the wide experience and vast knowledge they possess in legal, financial, business and administrative matters. The seventh appointed member is the Deputy Governor of the Central Bank of Sri Lanka. The remaining three are members by virtue of the offices they hold and are the Deputy Secretary to the Treasury, the Registrar of Companies and the President of the Institute of Chartered Accountants of Sri Lanka.The Minister nominates from amongst the members of the Commission, one member to be the Chairman of the Commission.
Nation