Britain's presence at the Commonwealth summit will achieve more than an empty chair would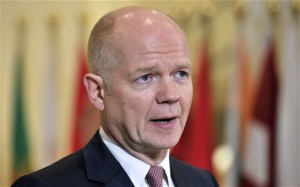 William Hague, the Foreign Secretary, is firmly against a boycott of the Commonwealth summit in Sri Lanka
Photo: AFP/GETTY
Next week, the Prime Minister and I will travel to Sri Lanka for the latest Commonwealth Heads of Government Meeting. The 53 Commonwealth countries together represent two billion people – nearly a third of our world's population – and some of its fastest-growing economies. Despite its significance, most discussion of the summit has centred on its location. In particular, because of Sri Lanka's poor record on human rights, some people are calling for a British boycott.
I am among the first to want to see change in Sri Lanka. While we shouldn't regret the end of the Liberation Tigers of Tamil Eelam's campaign of terrorism, no one can forget the bloodshed and horrific images that accompanied the end of the long conflict between them and the government. The final push in 2009 saw thousands of people killed – many of them innocent civilians – and appalling alleged violations of human rights.
Four years later, Sri Lanka is still a country where civil society is suppressed, where NGOs and the media are routinely intimidated, where journalists and critics of the government have disappeared, and where no one has been held to account for alleged war crimes including rape and sexual violence. It is completely legitimate for there to be a debate about how we influence Sri Lanka so that these crimes and concerns are addressed.
Unlike the Labour Party, which was in power when Sri Lanka was chosen to host this meeting, and which has come out at the 11th hour to say that Britain should not attend, many of those advocating a boycott have been doing so for some time. I respect their views and share many of their concerns.
But I strongly believe that a boycott would be wrong. Attending the Commonwealth summit is the right thing to do. We do no good for the situation in Sri Lanka by sitting on the sidelines. During the final stages of the civil war, the international community was criticised for doing just that. By visiting, we can see the situation on the ground first-hand, meet people on all sides of the conflict, and raise our concerns frankly and directly with the government