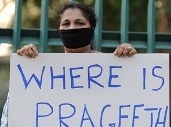 5th June – The highlight was that Mohan Peiris, former Attorney General, admitting in Courts that his statements about Prageeth Ekneligoda to the UN CAT as the head of the Sri Lankan government delegation in November 2001 was based on hearsay and contrary to what he said there, he actually had no idea where Prageeth is (He didn't say whether rest of his statements to the UN CAT was also hearsay!)

The Magistrate Court in Homagama heard the case relating to the disappearance of Journalist and Cartoonist Prageeth Eknaligoda, today, 5th June 2012. Several representatives of diplomatic missions, media personnel and human rights defenders were present to observe hearings and to support the wife of the missing journalist, Mrs. Sandya Ekneligoda.
Former Attorney General and Senior Legal Advisor to the cabinet Mohan Peiris provided his testimony over a statement he made at the UN Committee Against Torture (CAT) on November 9, 2011 in Geneva, that Prageeth Ekneligoda was alive overseas.
Mr Peiris confirmed having participated at the 47th UN CAT in November 2011, and said this meeting was held at a time when there was widespread anti-Sri Lankan sentiments being expressed in many quarters.
But Mr. Peiris rejected making the statement as laid out in the document as he read the UN transcript of his statement provided to him by Mrs. Ekneligoda's lawyer. "I mentioned that an investigation is being carried out on the disappearance of Prageeth Eknaligoda but some foreigners who were not satisfied with my statement continued to question me for nearly three hours. If I recall correct, I responded to a U.S. lady's question and mentioned that the government and the justice department had received intelligence information that Prageeth Eknaligoda was living overseas, but it was mere hearsay and we forwarded that information to be investigated" he said.
When Mr. Peiris was asked by Mrs. Ekneligoda's lawyer whether he could name the source of his information prior to leaving for the UN sessions, State Counsel objected saying that a public official cannot be asked to reveal information about what he says and does in the course of his official duty, especially if such revelation would be inimical to the country's interest or reputation and/or if such revelation would result in any harm to the people of this country. Mrs. Ekneligoda's lawyer pointed out firstly that Mr. Peiris is not a public official coming under the Public Service Commission and secondly that no harm would come to any citizen of this country as a result of Mr. Peiris' revelations. As for the country's interest or reputation, the lawyer observed that contrary to State Counsel's fears, Mr. Peiris' revelation would only help enhance the reputation of the country and its judicial processes. State counsel then quoted relevant laws and countered that Peiris is a public official. Mrs. Ekneligoda's lawyer also quoted Case Law where it had been shown that the judge had powers to ask a public official to reveal his sources of information. State counsel contested this position and insisted on the Court upholding his objection, in spite of the fact that Mr. Peiris himself offered to Court to answer the question.
At this point Court invited Peiris to answer the question. Mr. Peiris said that he does not remember who or what the source of his information was and that he was processing nearly 100 files a day at the time and that remembering such details was not possible.
Mr Peiris drew the Magistrate's attention to the UN Charter and explained that that the UN forums had complete freedom of speech and that public officials representing various countries in the forum were subject to independent discharge of duty and had legal immunity. He appealed that the UN Charter must be honored at all times. He went on to conclude by saying that he wished he could shed more light, but that "I have no information that the corpus is alive or not and I do not think the government does either and that God only knows where Ekneligoda is".
He also said his statement should not be misinterpreted for political gains as it brings disrepute to the country.
Next date was fixed for 10th July, 1.30pm, at request of Mrs. Ekneligoda's lawyer, summons will be issued to Payagala Lakshman Vasantha Kumara Kulathunga, the last person believed to have seen Prageeth. (State Counsel said he is not available between 18th June and 5th July – I suspect because of 20th session of the UN Human Rights Council sessions in Geneva)
Mr. Peiris was provided special treatment not provided to other witnesses in this or other cases, when the unusually large Police contingent present outside Courts, arranged for his car to be taken inside the court premises and barred many of the journalists from entering the premises. Mr. Peiris thereby avoided speaking to or even being photographed by the many journalists that were waiting outside.
Since the statement in Geneva was made on 9th November 2011, Prageeth's wife, Sandya Ekneligoda had waged a determined battle to get Mr. Peiris to testify in courts, to which the State Counsel had objected in Magistrate's Courts as well as in Appeal Courts. It took nearly 7 months for Mr. Peiris to be brought before courts.
Separately, Mrs. Ekneligoda had also sent several letters to the Chairman of the National Human Rights Commission to summon Mr. Peiris, as part of the ongoing inquiry into the case by the National Human Rights Commission, based on a complaint made by her. The Commission had rejected Mrs. Ekneligoda's repeated requests to summon Mr. Peiris, but had requested Mr. Peiris to send a written submission in January 2012, and it is not known whether Mr. Peiris had adhered to this directive or not
LNW