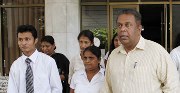 Samaraweera after filing the case
The Supreme Court has not called for the registration of news websites, Chief Justice Shirani Bandaranayake said this week, concurring with counsel for UNP Parliamentarian Mangala Samaraweera in the fundamental rights case filed against the CID raid on the Lankaxnews website. The Bench also included Justices N.G.Amaratunga and K. Sripavan.The Counsel for petitioner Mr.Samaraweera told court that the CID obtained a search warrant to enter the premises of Lankaxnews website by misinforming a magistrate that the website was not registered in terms of a Supreme Court order.

He said the Supreme Court never made such an order and therefore a search warrant obtained on misinformation was illegal.At this stage, Chief Justice Bandaranayake noted that the Supreme Court had not made an order calling for the registration of news websites.The petitioner's counsel said the CID had misinterpreted a recent Supreme Court order to its advantage to obtain the search warrant.
Deputy Solicitor General (DSG) Shaveendra Fernando objecting to the rights plea submitted that petitioner Samaraweera had committed a criminal offence by not paying EPF and ETF to two employees of Lankaxnews website.
He noted that the website was carrying out illegal activities because the computers seized by the CID had child pornography files. "The petitioner should come to court with clean hands," he argued.
The petitioner's counsel replied that it was the respondents who should have come with clean hands, as they had wrongfully obtained the search warrant, by misrepresenting facts to the magistrate.He also denied the allegations of child pornography, while accusing the CID of fabricating charges.
Mr. Samaraweera, head of the Communication Division of the UNP, filed the rights application in the Supreme Court, against the illegal search of the website office and the arrest of two employees of the official website of the UNP, on June 29, along with seven employees of the SriLanka mirror website, whose office is also located on the ground floor of the same building, as that of Lankaxnews website.
Mr. Samaraweera stated that, although the CID arrested the employees of the Lankaxnews news website claiming that they had published articles defaming the President, no such article had been submitted to the magistrate to prove their claims.
He alleged that the seizure of equipment and the arrest of employees were aimed at disrupting the activities of the Opposition website, which highlighted corruption within the Government.
He sought Rs. 50 million as compensation.Mr. Samaraweera cited CID computer division OIC, IP Senaratne, OIC CID, the Director CID, the IGP and the Attorney General as respondents.
ST