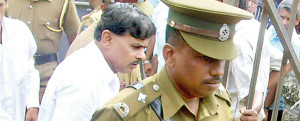 Akuressa-PS-Chairman
Akuressa PS Chairman being brought to courts on Friday.
Pic by Krishan Jeewaka Jayaruk
From more serious crimes such as alleged killings and rape to drunken behaviour, incidents involving local politicos are on the rise
From allegedly killing a tourist to raping a 13 year-old and beating a 72 year-old, an increase in crimes committed by local politicians begs the question whether they are serving the public or harassing them.

According to police records, for this year alone, legal action has been taken against 42 politicos including three Members of Parliament (MPs) and others from Provincial, Municipal and Urban Councils and the most number from Pradeshiya Sabhas (PS).
The alleged crimes vary from killings, rape, assault, harassment, land acquisition, treasure hunting, unruly behaviour, soliciting bribes and ransom and obstructing police from discharging their duty.
Last Saturday (August 4) the Central Provincial Health Minister was arrested by Kandy police for allegedly assaulting a specialist at the Kandy General Hospital. Doctors of the hospital went on strike demanding the arrest of the Health Minister Sunil Amaratunga for assaulting Dr. Sapumal Dhanapala and verbally abusing Central Province Health Director Dr. Shanthi Samarasinghe.
The Health Minister was released on surety bail of Rs.100, 000 by the Kandy Chief Magistrate Ravindra Premaratne.
Meanwhile in Badulla, a ruling party Badulla PS member was arrested for allegedly assaulting an employee of the Badulla Water Board office. He was produced before Badulla Magistrate Courts and released on Rs. 50, 000 bail.
Other assault cases included a United National Party (UNP) member of the Galenbindunuwewa PS being arrested for allegedly assaulting a resident in a nearby area, a Ridigama PS member arrested for allegedly hurling stones at a vehicle of a Kurunegala district parliamentarian, and United People's Freedom Alliance (UPFA) member of the Warakapola Pradeshiya Sabha arrested for allegedly assaulting a 72 year old woman in Dedigama.
The Wattegama Urban Council (UC) Chairman who was a suspect in the assault of a fruit vendor in Wattegama surrendered to the police. In a similar case Mawathagama Pradeshiya Sabha Chairman, Upul Perera was arrested last month on a complaint of assaulting a 28-year-old. When it came to obstructing police duties, a UNP member of the Southern Provincial Council and opposition member of Bope Poddala PS were arrested by Akmeemana police. The heavily intoxicated politicos had allegedly blocked the road with their vehicles causing traffic congestion. In another case the Balapitiya PS Vice Chairman was arrested and fined for unruly behaviour under the influence of liquor.
In another incident, United People's Freedom Alliance (UPFA) member of the Kelaniya Pradeshiya Sabha was arrested for creating a commotion with residents regarding a garbage issue in the area.
Meanwhile, Kalutara Pradeshiya Sabha Chairman, Lakshman Vidana Pathiranange was arrested by officials of the Bribery or Corruption Commission while attempting to accept a Rs. three million bribe from a property developer.
This year also recorded more serious crimes involving local politicians.
In March, a Pradeshiya Sabha member was arrested for his alleged involvement in the double killing of a mother and daughter in Kahawatte, in the Ratnapura district.In July, a UPFA councillor of the Tangalle Urban Council surrendered to police over the rape of a 13 year-old girl at a guest house in Tangalle.
The same month saw Akuressa PS Chairman from the ruling party being arrested in connection with raping a 14 year-old girl.
Meanwhile a citizens' rights group said that the public in the country was troubled by the increasing number of incidents that are reported of unruly and criminal behaviour of some people's representatives.
Citizen's Movement for Good Governance (CIMOGG)president, Dr A.C.Visvalingam said, "There are more provincial council, municipal council, urban council and pradeshiya sabha members than there are members of parliament (MPs) and the number of reports pertaining to the former group are statistically much larger than those that relate to the latter. This has caused serious concerns among the public as to what kind of society they would be able to ensure for their children if the rot gets any worse".
Former DIG Nimal Mediwake told the Sunday Times that it was important to analyse the reasons behind the rise in criminal activites among local politicians.
"At present they (politicians) are under the impression that they are above the law and in the belief that they can get away from law enforcement agencies," he said. He said that police should be impartial even if the suspects were from the ruling party.
"These unlawful acts would go beyond control if society does not react strongly and it's time for police to get the public support in curbing this situation," he said.According to him civil defence committees formed under the neighbourhood watch concept should be strengthened.
"Presently we see some agitation against such unruly politicians by the public. They can press law enforcement authorities to take action," Mr.Mediwake said.
At a news conference recently, Maitripala Sirisena, General Secretary of the Sri Lanka Freedom Party(SLFP), the major constituent party of the ruling UPFA, said, the party would not tolerate grave crimes committed by its members and disciplinary action would be taken against wrongdoers.
Meanwhile Public Administration and Internal Affairs Minister John Seneviratne told the Sunday Times, that some local politicians do not realise that their political power should be used to serve the public. "There is an upheaval in society's law and order, but politicians should be cautious and avoid getting involved as they are elected to serve the public," he said.
UNP spokesman Gayantha Karunatilake told the Sunday Times that it was the duty of parliamentarians to set an example for grass-root level politicians.
"There are many MPs in the ruling party who have been involved in unlawful acts. There is no swift action against those who have committed grave crimes. The political hierarchy should not encourage these acts as it will result in sullying the party's image," he said adding that most of cases taking place in villages were not reported as the majority of these politicians involved were from the ruling party.
"People from villages are afraid to complain to the police. In one instance a bus driver was beaten because he failed to stop the bus near a PS member's house forcing the member's wife to walk back a few feet to her place," he said.Mr. Karunatilake also added that all parties should ensure that those contesting for elections were not involved in drug dealings and were not underworld members.
"The UNP usually conducts a disciplinary inquiry and takes action without delay, he said assuring that action would be taken against those who commit such crimes.
Last month, the United People's Freedom Alliance (UPFA) expelled from the party a number of local politicians involved in crimes that included the alleged killing of a British tourist in Tangalle on Christmas Eve last year and the alleged rape of a 13-year-old girl in Akuressa this year.
The politicians included Tangalle Pradeshiya Sabha Chairman W.P. Sampath Chandra Pushpa, Tangalle Pradeshiya Sabha member Anjana Kusumruwan, Akuressa Pradeshiya Sabha Chairman S.H. Sunil and Akuressa Pradeshiya Vice Chairman Sabha Munidasa Gamage.



Judge turns down Akuressa PS chairman's plea
Colombo District Judge Pradeep Jayatillake on Friday turned down a plea from the Akuressa Pradeshiya Sabha chairman, who is in remand for an alleged rape, to issue an enjoining order preventing the UPFA General Secretary from removing him from his post as chairman and expelling him from the SLFP.
The PS Chairman Liyanage Sunil claimed he was a reputed politician and a well-known businessman. His counsel A. Parthalingam said since the PS chairman was a member of the SLFP, the UPFA General Secretary could not initiate disciplinary action against him.
The judge issued notice on UPFA General Secretary Susil Premajayantha to appear in courts on August 28.