(Image courtesy of the TNA)
 "We don't want the Military to run farms on our lands which they are doing now, we want them to be out of these commercial activities which hinder the livelihoods of our people;  That decisions of releasing lands should not be left alone to the armed forces but the government must decide and implement. ", TNA leader Sampanthan  has told The United Nations Resident Coordinator for Sri Lanka his excellency Terence D. Jones today.  Issuing a press release TNA further said that "we don't want the entire military to be framed as criminals, but certainly those who committed grave atrocities must be punished."
(Press Statement 03 July 2018)
The United Nations Resident Coordinator for Sri Lanka his excellency Terence D. Jones paid a courtesy call to the Leader of the Opposition and the Tamil National Alliance Hon R Sampanthan today in Parliament.
Raising his concerns on the implementation of the United Nations Human Rights Council's (UNHRC) resolution Mr. Sampanthan said many aspects of the resolution are not seriously addressed, not only the Government of Sri Lanka cosponsored the resolution but it did request for more time to implement the resolution and the International community graciously accepted that request, therefore the government cannot afford to go back on their commitments.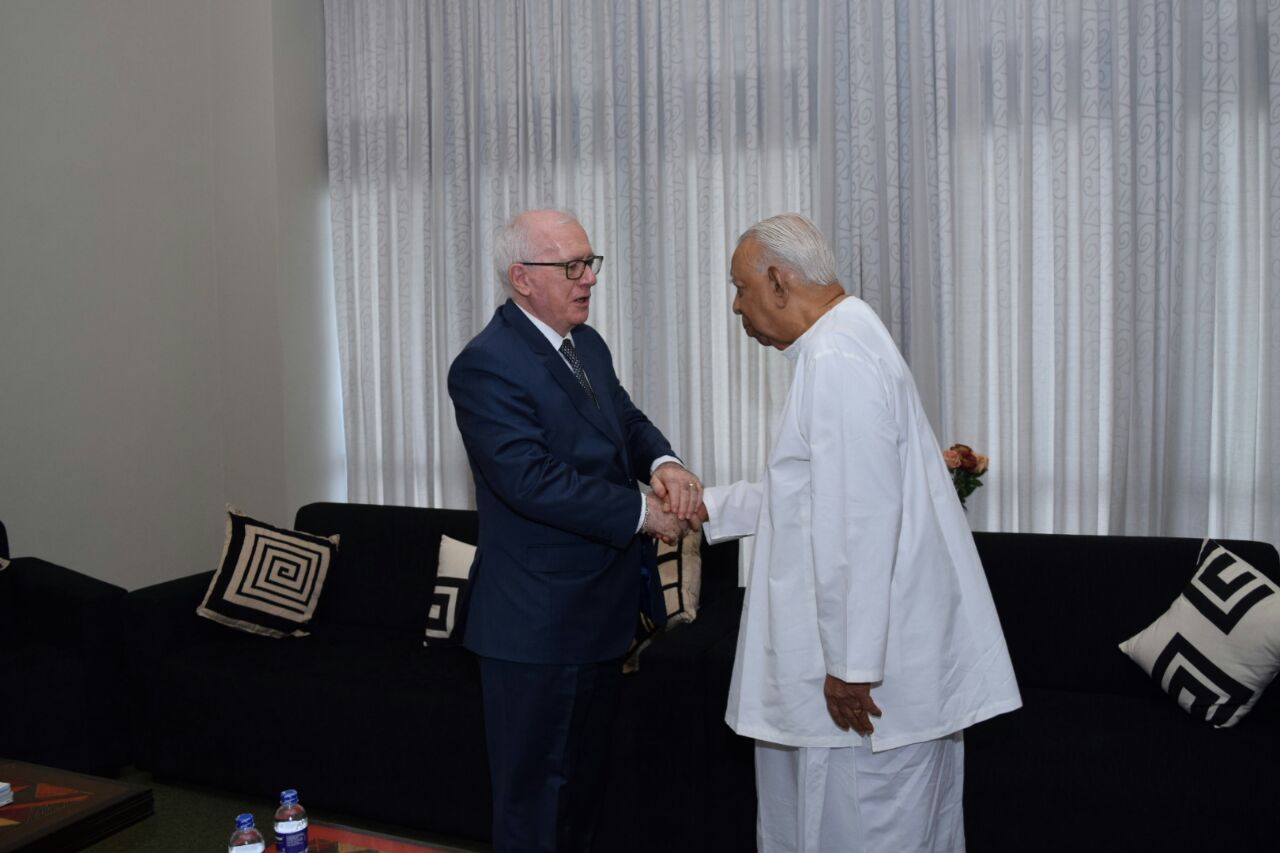 Mr Sampanthan also highlighted the importance of adopting a New Constitution which will ensure the non-recurrence of the past which is also a crucial matter stipulated in the UNHRC resolution. "There had been a lot of work done regard to this matter since 1988 and what we need now is the political will and the courage to take it further," Mr Sampanthan said. We will remain committed in this process and will continue to exert pressure on the government to fulfil its commitments to both its own people and to the international community" said Mr Sampanthan.
Mr Sampanthan also raised his concerns over the slow phase in which the lands are being released in the North and East. "we don't want the Military to run farms on our lands which they are doing now, we want them to be out of these commercial activities which hinder the livelihoods of our people said Mr Sampanthan. TNA spokesman and Jaffna District Parliamentarian Mr Sumanthiran pointed out that decisions of releasing lands should not be left alone to the armed forces but the government must decide and implement. Speaking further Mr Sampanthan said when the government overreact to the extremists its only becomes an impediment to achieving reconciliation".
Our people are unhappy, they contributed substantially to bring this government to power, but the government has shown very little progress in the past. our young people are being discriminated against in many matters especially with regard to the employment opportunities, our people are suffering continually. This government accepted the need for certain things to be done, and they must take necessary steps to address those said Mr Sampanthan.
Speaking on the issue of accountability Mr Sampanthan said, we don't want the entire military to be framed as criminals, but certainly those who committed grave atrocities must be punished.
The UN Resident Coordinator assured that despite USA withdrawal from the UNHRC council the International communities concerns will remain unchanged with regard to the progress made by the government of Sri Lanka towards the implementation of the resolution adopted in 2015.
Along with Mr Sampanthan, the TNA spokesman and the Jaffna District Parliamentarian Mr M. A. Sumanthiran was also present at the meeting which lasted for an hour.