Days were few and rare when the investigation into the murder of ruggerite Wasim Thajudeen did not become the topic in many media conferences and election stages before the Yahapalana government came into power. Former President Maithripala Sirisena, especially during the election campaign in 2015, used photos of Thajudeen to criticise the state of affairs under former President and newly elected Prime Minister Mahinda Rajapaksa's rule. With so many promises to serve justice for the ruggerite, the developments in the investigation made headlines every other day in Sri Lankan media.
Eight years have passed since the murder. There is no suspect found to have been directly involved in the murder of one of the most promising rugby players in Sri Lanka. With the change of the governments and the broken promises, the masterminds behind the crime are still enjoying impunity.
Expressing their complete disappointment, Thajudeen's family told the Daily Mirror that the investigation and the hearings into his murder have turned out to be a mockery. Last Monday (10) marked five years since his body was exhumed for the second post mortem, his sister Ayesha Thajudeen shared an emotional status on her Facebook account about the status of inquiry into her brother's murder.
"Today I stand lost after all our efforts to see justice to your death. It is five years for today since your body was exhumed. It was an experience that broke our hearts further. I still remember the struggle we went through to convince Umma and Wappa for this, with the hope that was pushing me, that taking your body out will be scientific evidence to serve justice by your death," she wrote.  
Commenting on her hopes for the conclusion of the investigation, she told the Daily Mirror that for her, nothing will bring justice in a court of law in this country and that she believes it is only the Almighty who can serve justice.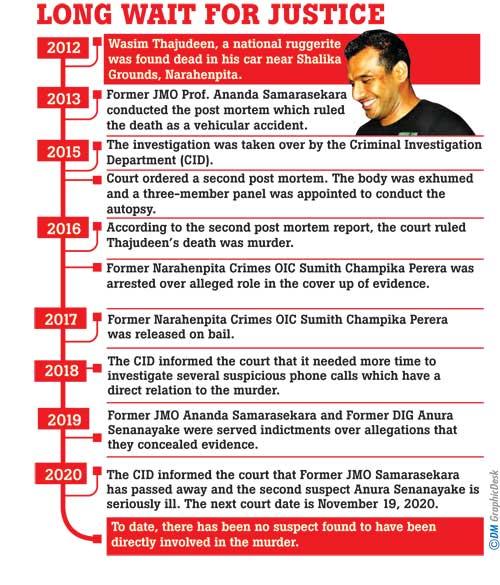 Staged car crash
The CID had informed the court that investigations conducted so far had revealed that Thajudeen's teeth had been broken, muscles in his legs had been cut with a piece of broken glass, the bones in the pelvic region had been also broken and his neck was pierced with a sharp instrument before his death. Earlier, the Police maintained that Thajudeen was driving to the airport and had lost control of his car and crashed onto the wall of Shalika Grounds and that his vehicle had exploded within seconds after the crash.
However, the second post mortem also notes: "Considering all the observations and comments given above, we are of the opinion that the deceased was not driving the vehicle at the time of the said accident or commencement of the fire. It is highly probable that the incapacitated person was kept on the passenger seat by another person".
The report concluded that the cause of death was the "effects of multiple injuries caused by blunt weapon(s) and effects of fire".