Raises Weliweriya, religious freedom issues n Talks internet censorship and press freedom n Heavy security for Ranil-Pillay pow-wow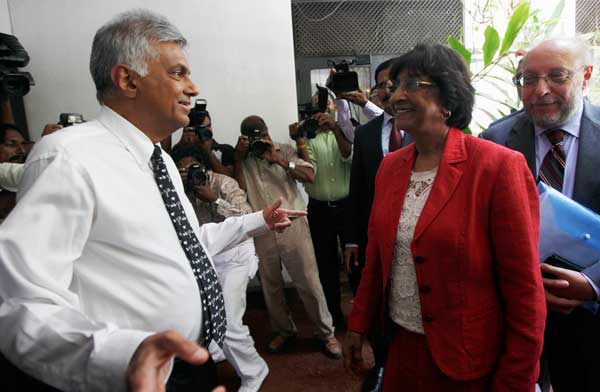 20

By Dharisha Bastians
The country's main Opposition party yesterday called for the re-enactment of the historic 17th Amendment to the Constitution, and pointed to the de-politicisation legislation as a clear way out of the current governance and rule of law quagmire facing Sri Lanka during a meeting with a visiting UN Envoy.

Discussions between UN High Commissioner for Human Rights Navanethem Pillay and the main Opposition last afternoon had focused essentially on post-war erosion of democracy, party officials said.
The United National Party told the visiting UN High Commissioner that a draft bill to re-enact 17A was ready and could be passed in Parliament as an urgent bill since it would be certain of obtaining the necessary support.
In its first passage into legislation, the 17th Amendment, which provides for the setting up of independent commissions to oversee appointments to the police, Judiciary and public service, and an elections commission to oversee national polls, was passed by a historic 223 votes in 2003.
"We spoke a lot about the freedom of the press," Opposition Leader Ranil Wickremesinghe said after an hour-long discussion with the UN Envoy at his Fifth Lane residence.
The UNP delegation had raised recent incidents of attacks on the independent media, including the attack on the residence of a senior Sunday Leader journalist and the blockade on the website Colombo Telegraph, during the meeting with Pillay. The UN High Commissioner is reported to have taken note of the issue, party officials revealed.
Other UNP officials said the discussions had focused on the deterioration of democratic values, the breakdown of the rule of law and the increase in religious intolerance. The violence in Weliweriya also came up in the discussions, party sources said.
Addressing the media following their talks with the UN High Commissioner, former UNP Deputy Leader Karu Jayasuriya said the party had emphasised the need to re-establish democracy after the defeat of the LTTE. "As the party that ushered independence to Sri Lanka, the UNP has every right to speak of the current democratic crisis in the country," Jayasuriya said.
UNP MP Ravi Karunanayake, who also sat in on the meeting with Pillay, said the UNP delegation had explained that the religious freedom issue was a creation of chauvinistic political forces. "We explained how it is later explained away as religious fundamentalism, but in reality, it's political," Karunanayake told Daily FT.
A heavy police presence was visible on Thurstan Road during the Pillay-Ranil pow-wow yesterday. The UNP delegation also included MPs Wijedasa Rajapaksa and Mangala Samaraweera, Provincial Councillor Srinath Perera and Party General Secretary Tissa Attanayake
–FT