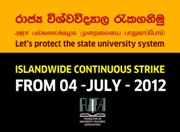 University teachers will launch an indefinite strike today as their talks with the Secretary to the President Lalith Weeratunga have failed.

Yesterday's discussion chaired by Weeratunga was held at the Presidential Secretariat with the participation of members of the Federation of University Teachers' Associations (FUTA), Higher Education Minister S. B. Dissanayake, Secretary to Ministry of Higher Education Dr. Sunil Jayantha Navaratne, University Grants Commission Chairman Prof. Gamini Samaranayake and Treasury officials.
The next round of discussion has been scheduled for July 12 at the same venue.
FUTA President Dr. Nirmal Ranjith Devasiri told The Island that government had failed to present a viable solution last night. "Therefore, we have been left with no alternative but to go ahead with our scheduled strike."
University teachers resorted to trade union action to pressure the government to rectify their salary anomalies on March 15 last year. They vacated the volunteer posts they held in protest, but suspended the trade union action on a government assurance that their salary anomalies problem would be rectified through this year's Budget. But, FUTA says the government has reneged on its promise.
FUTA resumed its trade union action with two new demands—allocation of 6% of GDP for the education sector and engagement of university teachers in the process of making decisions on the higher education sector.
Dr. Devasiri said that the Higher Education Ministry and the University Grants Commission had earlier promised to solve their salary problem in three stages but that promise too had not been honoured.
Higher Education Secretary Dr. Sunil Jayantha Navaratne told The Island last night that FUTA had submitted its proposals at yesterday's meeting and the government needed some time to study them.
Meanwhile, FUTA President Dr. Nirmal Ranjith Devasiri told The Island last night that an unidentified person had threatened him over the telephone to stop the FUTA strike or face the consequences.
He said he would make a formal complaint the Cinnamon Garden Police station of the threatening call shortly.
by Dasun Edirisinghe
IS