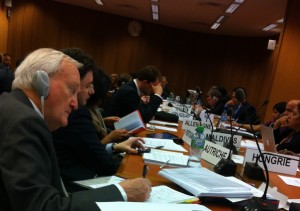 The meeting in Progress @ Room no 27
Today ( 13.03.2013) an informal discussion on the 3rd draft of the US sponsored resolution on Promoting Reconciliation and Accountability in Sri Lanka was held at the Geneva UN HQ, room no 27. It was organized by the US mission.

Russia, China , Pakistan and Cuba proposed to amend the resolution in a way that make it toothless and meaning less. EU countries and Canada wanted to make some of the the wordings more stronger.
The most debated issue was 'the dedicated general debate' (No 4)proposed in the resolution on Sri Lanka at the 25th session of the UNHRC in March 2014. This debate will be on the report OHCHR will be presenting to the council. All four countries that supported Sri Lankan Government opposed the inclusion of 'dedicated debate'.
Second contentious point was the No 2 i.e, 'encourages Sri Lanka Government to implement the recommendation in the OHCHR report' on Sri Lanka
The Government of Sri Lanka didn't participate in the discussion although one official form the Sri Lanka delegations was present.
India too kept silence as usual.
US with the co-sponsors will submit amended final the resolution tomorrow. The final resolution will have the same format and content as in the draft below. Some wordings may changed according to reliable sources.
US has already submitted the 2nd Draft to the council. It can be viewed here .
Here is the draft submitted for discussion today.