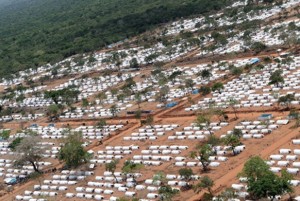 Menik Farm: One of the largest IDP camps in the world
While welcoming the closure of the 'Menik Farm' IDP camp the United Nations has raised concerns over some of the war displaced people.
United Nations (UN) Humanitarian Coordinator in Sri Lanka, Subinay Nandy said that there were concerns over 346 people who are unable to return to their original homes.
"This is a milestone event towards ending a chapter of displacement in Sri Lanka some three years after the civil war which ended in May 2009. But there are still some people who are unable to return to their homes and a solution urgently needs to be found," Nandy said in a statement today.

The UN is concerned about 346 people (110 families) who are returning from Menik Farm to Kepapilavu in the Mullaitivu District in the north, who are unable to return to their homes which are occupied by the military.
Instead, they are being relocated to state land where they await formal confirmation about what is happening to their land in the future, and plans for compensation if they cannot return, the UN office in Colombo said.
Nandy also called on the government to fully implement the recommendations of the Lessons Learned and Reconciliation Commission (LLRC) concerning the rights of people displaced by the conflict.
"Allowing people to settle anywhere in the country and resolving legal ownership of land for those who have resettled away from their original homes is a key part of the reconciliation process," he said.
CG