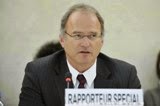 Christof Heyns
The United Nations Special Rapporteur on extrajudicial, summary or arbitrary executions, Christof Heyns has sought a visit to Sri Lanka.The Special Rapporteur had even last year sought a visit to Sri Lanka but to no avail. Heyns has said that he encourages the Governments of Sri Lanka and a few other countries to accept his pending request for a visit. The Special Rapporteur had recently called on the Sri Lankan authorities to take urgent and firm measures to bring the perpetrators of the killings in Aluthgama to justice and ensure the immediate adoption of robust protective measures.
"Showing determination to ensure accountability in such cases must be a key element of the Government's efforts to prevent the attacks and guarantee the safety of the members of religious minority communities" Heyns had said.
In June Heyns had submitted a report to the UN Human Rights Council which discusses the protection of the right to life during law enforcement and makes the case for the need for a concerted effort to bring domestic laws on the use of (especially lethal) force by the police in line with the international standards.