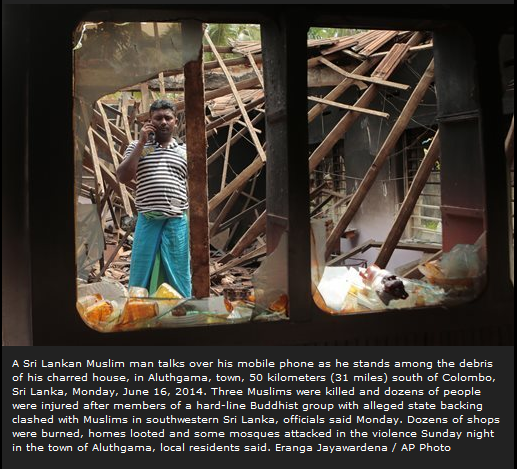 click to enlarge
Muslims will lose trust in Govt if BBS not punished
Leader of the Sri Lanka Muslim Congress (SLMC) and Minister of Justice, Rauff Hakeem, told US Ambassador Michele. J. Sison, Muslims in the country would lose hope and trust in the government if it fails to take immediate action, without any hesitation, to legally punish Galaboda Aththe Gnanasara Thera and the other culprits who were involved in recent attacks. US Ambassador Sison met Minister Hakeem at his residence yesterday to discuss the current situation and his stand on the Aluthgama incident. The highlight of the discussion was Sunday's attack on Muslims. The reasons for the flare up were also examined.
The minister appreciated the statements issued by the US condemning the attacks, while he too expressed his condemnation. The Ambassador pointed out that the United Nations Secretary General had also released a statement condemning the attacks.
Minister Hakeem said the recent incidents have been evidence for Navaneetham Pillay's reports regarding actions against minority communities in the country and stressed that a report submitted by the SLMC to Navaneetham Pillay was suitable.
"Even if the government does not like the UN representatives entering the country to look into issues, I feel they should come to the country and examine the present situation," he said.
He also told the Ambassador he was considering bringing in a law to punish those who deliver inflammatory speeches.
Hakeem, asked if the government could arrest Azath Salley under powerful laws why it didn't arrest the BBS monk. He said that BBS leader's inflammatory speech had been on all the websites.
The US Ambassador expressed her anxiety over all the Sunday's incidents and claimed that the US is observing the attacks against the minority communities.
The minister is to meet the British High Commissioner to discuss the issue in the next few days.
By Mirudhula Thambiah
Ceylon Today