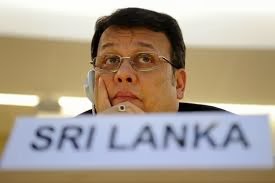 Samarasinghe
The Government, today castigated the UN High Commissioner for Human Rights Navi Pillay calling her a "liar" who is bent on being aggressive with Sri Lanka. Minister Mahinda Samarasinghe, speaking at a rally today, said that the Government will not succumb to pressure from some countries or the UN Human Rights Chief to betray the soldiers who fought the war against the LTTE. He recalled that domestic investigations were underway into allegations raised against some soldiers and the army will take action against them, if found guilty.
"We are ready to face these people in the best interest of the country, the soldiers and the public," he said.
Samarasinghe said that over the past eight years, as the head of Government delegations at the UN Human Rights Council sessions in Geneva, he had defended the country against human rights allegations.
"I had sat next to Pillay and told her to be fair by us and not act based on what some countries want. We have been clear on our stand," he said.
Samarasinghe will be heading to Geneva tomorrow to join the Sri Lankan team there attending the ongoing session of the UN Human Rights Council.
However External Affairs Minister, Professor G.L Peiris is heading the Sri Lankan delegation and not Samarasinghe. Samarasinghe will return to the country by March 22. (
Colombo Gazette
)