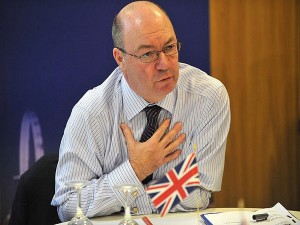 Alistair Burt

The British Foreign and Commonwealth Office has reacted to the concerns raised on Sri Lanka by the UN High Commissioner for Human Rights Navi Pillay.
Foreign Office Minister Alistair Burt tweeted saying her concerns confirms that it is vital that Sri Lanka meets the declared intentions on reconciliation and human rights.
Speaking to the media in Colombo yesterday Pillay had said that there are a number of specific factors impeding normalization, which – if not quickly rectified – may sow the seeds of future discord.

These are by and large to do with the curtailment or denial of personal freedoms and human rights, or linked to persistent impunity and the failure of rule of law, she said.
Among the issues, she said, she was concerned to hear about the degree to which the military appears to be putting down roots and becoming involved in what should be civilian activities, for instance education, agriculture and even tourism.
"I also heard complaints about the acquisition of private land to build military camps and installations, including a holiday resort. This is only going to make the complex land issues with which the Government has been grappling even more complicated and difficult to resolve. Clearly, the army needs some camps, but the prevalence and level of involvement of soldiers in thecommunityseem much greater than is needed for strictly military or reconstruction purposes four years after the end of the war," she added.
She said she was also was very concerned to hear about the vulnerability of women and girls, especially in female-headed households, to sexual harassment and abuse.
"I have raised this issue with several ministers, the provincial governors and senior military commanders who attended my meeting with the Secretary of Defence. I challenged them to rigorously enforce a zero tolerance policy for sexual abuse," she said. (Colombo Gazette)