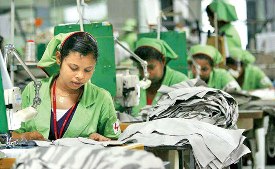 Apparel fell 6.3 percent
(LBO) – Sri Lanka's external trade contracted in June with exports falling 11.7 percent to 755.8 million US dollars and imports falling 15 percent to 1,419 million US dollars, official data showed.
Tea exports fell.6 percent to 101.4 million US dollars, apparel fell 6.3 percent to 310 million US dollars and rubber products fell 15 percent to 64 million US dollars.

The Central Bank said lower cotton prices also contributed to lower dollar earnings from apparel.
Imports in June fell 15.0 percent to 1,419 with consumer goods falling 25.6 percnet to 230.9 million US dollars and investment goods falling 25.1 percent to 127.8 million US dollars.
Petroleum imports continued to rise 16.3 percent to 400.1 million US dollars.
Sri Lanka raised energy prices in February 2012 after triggering a balance of payments crisis by taking large volumes of bank credit to subsidize energy.
Market pricing energy causes non-oil imports to fall as people and firms divert money to energy reducing other expenses, or they reduce savings which will give less money for banks to lend, keeping the exchange rate and the economy stable (Ricardian equivalence).
The trade deficit to spending power earned through remittances (exports of labour), tourism receipts (exports of tourism services) and net capital inflows (exports of debt or investments).
In 2012 import grew to unsustainable levels partly due nearly 200 billion rupees of central bank credit (printed money) injected to the economy to sterilize foreign sales while subsidizing energy with yet more bank credit.
However the establishment blamed car imports for the problem and jacked up taxes, depriving much needed revenue to the government, expanding the budget deficit, requiring higher interest rates to persist longer than necessary.
In June the trade deficit contracted 21.8 percent to 663.2 million US dollars.
In the six months to June exports fell 2.2 percent to 4,965 million US dollars, imports rose 4.2 percent to 9,666.5 million US dollars and the trade deficit expanded 11.8 percent to 4,710 million US dollars.
LBO