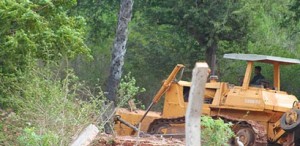 Military destroying the houses
A group of Tamil National Alliance (TNA) parliamentarians and Northern Provincial Councillors have visited Valikamam North and urged the Army to immediately halt the demolition of the private residences in the area.

The delegation comprising TNA Parliamentarian, E. Saravanapavan, and NPC members M.K. Sivajilingam and Dharmalingam Siddharthan visited the former High Security Zone on Monday (28), where Army personnel were allegedly in the process of demolishing houses in the area earmarked by the Army for expansion.
The visit was planned after the TNA received a number of complaints from the Internally Displaced Persons (IDPs) from the area.
A member of the TNA delegation said the Army had fenced off the area in Kadduvan, Valikaamam North where the buildings were being bulldozed.
The delegation had inspected the site from outside the fenced off area, but later were allegedly intimidated by the Army personnel engaged in the demolition, sources said.
According to military sources in Jaffna, the Army was clearing the shrubs and bushes in the area and several buildings that were demolished were already in a dilapidated state due to the 30-year conflict.
The houses that remain in good condition are looked after by the Army, military sources said.
However, the TNA delegation said the demolition was taking place at an accelerated phase.
CT