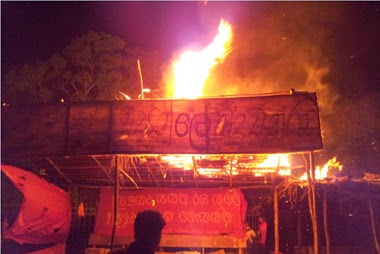 Student hut set o Fire ( lankaviews)
The 'Sathyagraha' campaign carried out by students of Rajarata University demanding authorities to remove the unjustifiable suspension of classes of 27 students has been attacked by thugs.
Today (18th), on the 191st day of the 'Sathyagraha', thugs who had arrived early morning in a motorcycle have set fire to the temporary hut students were using for the 'Sathyagraha'. One student has been injured in the incident.

Despite 'Sathyagraha' has continued for 191 days, the administration has not taken any favourable step regarding the removal of suspension of students.
In a media release the Students Council of the University states allowing thugs to attack protest movements of students when the whole university system has been threatened and students are subjected to various repressions, would jeopardize students' lives and the government should take responsibility for such an eventuality.
LT