A news story that said that "CCD pressured me to frame Shani Abeysekara – arrested fmr CID officer tells Magistrate"  appeared on Daily Mirror newspaper on 04 th August was deleted within hours.Senior Journalist Ranga Jayasuriya tweeted at 1.55PM Sri Lanka time thus: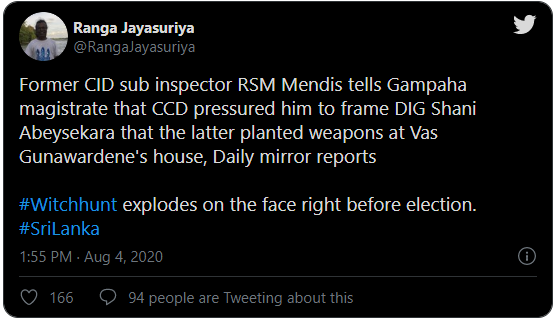 Dauly Mirror has first published at 10.34 AM a news story on the same issue quoting the the police spokesperson which said that "A Sub Inspector (SI) attached to the Embilipitiya Police Station had been arrested by the Colombo Crimes Division (CCD) last night for allegedly fabricating evidence with former CID Director Shani Abeysekara, Police Spokesman Jaliya Senaratna said."
SI arrested over fabricating evidence
4 August 2020 10:34 am
He said the SI, who was a Sergeant of the CID when Shani Abeysekara functioning as the Director CID, was arrested at the CCD last night after recording statement over fabricating evidence over a firearms case.

Earlier, the CCD arrested former CID Director Shani Abeysekara over allegations that he fabricated evidence in a 2013 murder investigation involving former DIG Vaas Gunawardena. He was later remanded till 7 August by the Gampaha Magistrate.

The Spokesman said the SI, a resident of Poddala would be produced in the Gampaha Magistrate's Court today.

Then 4,59 PM it posted a news story which contradicted the first news story retrieved from the google cache: This story has been deleted by the newspaper itself.
CCD pressured me to frame Shani Abeysekara – arrested fmr CID officer tells Magistrate
4 August 2020 04:59 pm
Attorney-at-Law Chaminda Athukoorala, appearing for Sub-Inspector R.S.M. Mendis, told Magistrate Manjula Karunaratne yesterday that ASP Neville de Silva and an Inspector attached to the CCD had warned the former CID officer that he would be arrested unless he stated that Abeysekara had planted firearms at a house in Kalagedihena in order to falsely frame former DIG Vaas Gunawardena for murder. Mendis has refused to comply with the request of the CCD to make a false statement, Athukoorala said. After hearing the allegation, the Magistrate privately interviewed Mendis, and recorded a sworn statement from him about the alleged incident.

Mendis was produced before the Gampaha Magistrates Court yesterday after being arrested on Monday, August 3, on charges of planting false evidence during the CID investigation of the 2013 murder of businessman Mohomed Shiyam.

In May 2014, a CID team including then ASP Abeysekara and Sergeant Mendis reported to the Colombo Fort Magistrates Court that they had uncovered a stash of weapons hidden by former DIG Vaas Gunawardena. Two guards at Gunawardena's residence gave sworn statements to the magistrate that they had seen an aide of the former DIG, Nirosh Chaminda Villarachchi, removing the weapons from Gunawardena's home.

Villarachchi later gave a sworn statement to the CID that he was asked by Gunawardena to hide the weapons in the home of Priyantha Neligama, who also gave a sworn confession in 2014 corroborating the story. Police investigators also traced some of the weapons back to the Kurunegala police armoury, and convicted a police officer of illegally issuing two shotguns to Gunawardena. During his murder trial, Gunawardena gave a dock statement confessing that he owned the weapons and stating that he obtained them during combat operations against the LTTE.

However, in June 2020,  the two guards, Neligama and Villarachchi all reversed their positions and claimed that Vaas Gunawardena had nothing to do with the weapons and that they were introduced to Neligama's house by Shani Abeysekara. They said that their previous sworn confessions were all compelled by Abeysekara. On this basis, CCD investigators last Friday arrested Abeysekara and charged him with falsifying evidence.

The case will be taken up again on Friday, August 7. (Nirmala Kannangara)

PDF of the deleted story: Daily Mirror – CCD pressured me to frame Shani Abeysekara – arrested fmr CID officer tells Magistrate