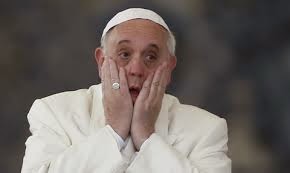 Kithu Handa says campaign to undermine Pope's visit
Kithu Handa (Voice of the Catholics) – the national movement to protect the Catholic religion asserts the demand made by Bodu Bala Sena (BBS) General Secretary, Galagoda Atte Gnanasara for the Pope to apologize to Sri Lankan Buddhists, is part of a plan that is being hatched to disrupt the Pope's visit to Sri Lanka next year.
In a media statement released over Gnanasara's comments, Kithu Handa states they have received information to believe that a campaign to undermine and disrupt Pope Francis's visit to Sri Lanka in January 2015 is being carried out.
According to their release, the following proposals had been made at the Executive Board meeting of the All Ceylon Buddhist Congress on February 11, 2014 as measures to be taken in light of the Pope's visit to Sri Lanka.
Drafting and passing an act in parliament that would uphold Buddhism in light of the Pope's arrival
Prevent Catholics from using phrases and expressions that are associated with Buddhist culture
Obtaining funds from Catholic churches to restore temples that had been damaged during the Portugese colonial era and to reclaim temple land in which Churches have been built and relocate such Churches
Urge the Northern Catholics to disown their links with the Tamil diaspora
Highlighting the stances that have been maintained by the Cardinal and Jaffna Archbishop on the ethnic Tamil issue
Considering Pope Francis as a state leader and not a religious leader and thereby ordering Buddhist monks to boycott Pope's welcome event and handing over an official letter to the Pope inclusive of above mentioned proposals.
Kithu Handa has gone on to further criticize Gnanasara's demand for the Pope to apologize to Sri Lankan Buddhists over the atrocities committed by Catholic/Christian colonialists.
"We regret his statement and we are also appalled at his words, which we believe has negatively impacted the reconciliation that Catholics and Buddhists have maintained over the years," Kithu Handa media release states.
Furthermore it asserts that it is not the Pope who if at all should apologize to Sri Lankan Buddhists but the state leaders of Portugal, Netherland and England because it was their ancestral leaders who invaded countries and committed killings in the name of Catholicism/ Christianity to justify their ruthless economic and political agendas.