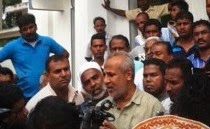 Hakeem at Aluthgama
Not even 'sufficient remorse' from Govt for Aluthgama riots says Hakeem
Nearly a month after the worst religious violence Sri Lanka has seen in decades, Justice Minister Rauff Hakeem has warned of a 'virtual holocaust' against the country's Muslim community unless Islamophobia and hate speech by radical monks were nipped in the bud. Minister Hakeem, who also heads the country's largest Muslim Party, the Sri Lanka Muslim Congress, told foreign correspondents yesterday that there was a 'bigger project' at work to cripple the Sri Lankan Muslim community economically and 'put them in their place.'
"It is bigger than any election. They want a virtual holocaust against the Muslims," Minister Hakeem said at his party's Daru Salaam Headquarters last evening.
He expressed concern about what he called 'a culture of impunity' for radical monks and their hate speech in the country. "These radical groups are given licence to operate that is befuddling to us," the Minister remarked.
"The way things are going it is a time bomb, and we have a duty by the nation to arrest the situation," Hakeem noted.
He said that when a community is repeatedly pushed against a wall, it creates a breeding ground for external elements to exploit the situation.
Hakeem said there was "inhibition" at the top levels of Government to arrest the trend.
Sri Lanka's legal system would work if there was sufficient political will, Minister Hakeem noted. "Law and order and law enforcement cannot work if there is no political will. The guardians of the law cannot permit a cultural impunity to grow," he charged.
"In the first place there hasn't even been sufficient remorse expressed from the Government about Aluthgama. Not even that," Minister Hakeem said.
He charged that the Muslims remained aghast and upset at being told they were to blame for the violence.
"The Government cannot keep apportioning blame, and telling us you people are also wrong, correct yourself," the Justice Minister asserted.
Similar events had happened in the lead up to the anti-Tamil riots in 1983, Minister Hakeem observed.
The Minister said the country's intelligence community is now five times what it was during the war and should have foreseen the violence at Aluthgama last month, following a meeting in the town by the Bodu Bala Sena.
The Muslim Minister acknowledged that his own community needed to engage in some retrospection in the aftermath of the riots. "Our people may be partially to blame, for our lack of interaction, or for allowing our cultural trappings to make us seem introverted," he noted.
Asked if he would continue to stay within the ruling alliance, Minister Hakeem responded that he believed in the art of the possible, and would continue to 'struggle from within."
"When I stay in this position and say the things I say, it has a certain impact," the Justice Minister explained.
He said that having quit Governments and been sacked from Governments, he was wiser by hindsight.