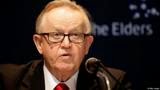 Martti Athissaari
The Nation newspaper today alleges that Martti Ahtisaari, former Finnish President and now a member of UNHRC Chief Navi Pillay's Experts Panel on Sri Lanka, is a "bribe-taker". The newspaper, quoting certain international media reports, says that Martti Ahtisaari has allegedly accepted a 40million euro bribe to deliver Kosovo independence. Ahtisaari was the tenth President of Finland (1994–2000), Nobel Peace Prize laureate and United Nations diplomat and mediator, noted for his international peace work.
The National newspaper however alleges that Ahtisaari bribed by what they term as "Albenian mafia".
Ahtisaari served as the United Nations Special Envoy for Kosovo, charged with organizing Kosovo status process negotiations, aimed at resolving a long-running dispute in Kosovo, which declared its independence from Serbia in 2008.
According to The Nation, a section of international media, quoting German intelligence reports, had stated that Martti Ahtisaari has allegedly accepted a 40million euro bribe to deliver Kosovo independence.
The Nation says,
"Excerpts from an international media report on Ahtisaari's conduct in Kosovo are as follows,
…The Finnish News Agency, STT, published on June 26 and June 27, 2007, two articles stating that the UN Special Envoy for Kosovo was "bought" by the Albanian mafia in order to support independence for Kosovo. The STT articles reported that the information was initially published by the Banja Luka (Republica Srpska, Bosnia & Herzegovina) Daily Fokus on June 21, 2007, entitled "Albanian Mafia Bought Ahtisaari".
According to another report, the UN Secretary General Ban Ki-moon had requested that the German Federal Intelligence Service, BND, inform him in detail on what was happening in Kosovo, and he finally received a detailed report on Special Envoy Ahtisaari's activities in Kosovo.
Based on the Banja Luka article, the UN Secretary General was informed that Albanian separatists in Kosovo had paid for Ahtisaari's plan which proposed independence for the Serbian province. The BND secret service team, headed by Brigadier Luke Neiman…had recordings of discussions between Ahtisaari and Albanians; how they transferred money; the banks accounts plus codes in Switzerland and Cyprus.
One of the [BND] recordings revealed the transportation of two-million euros from the Swiss Bank based in the city of Visalia, account number 239700-93457-00097, owned by Exhet Boria, which was masked by an offshore account with a code XS52-KOLER to Ahtisaari's bank account in the Bank of Cyprus, account number 3459346699004533, code VOLANND."
Meanwhile, strongly criticizing Ahtisaari's conduct as a peace negotiator, Norwegian peace and conflict studies expert Johan Galtung has said Ahtisaari 'does not solve conflicts but drives through short-term solutions that please western countries'. It is in this context that UN Human Rights Chief Navi Pillay has appointed Ahtisaari to assist the international war crimes panel on Sri Lanka. The Swedish Transnational Foundation for Peace and Future Research labeled as 'scandalous' honoring Ahtisaari with the Nobel Peace Prize because his solutions involved militarism and violations of international law. "