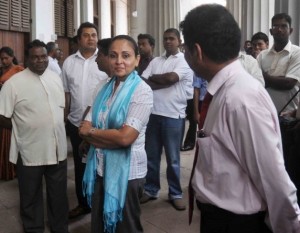 The Chief Editor of The Sunday Leader Frederica Jansz resigned from her post today following what inside sources said was a dispute with the management after she was instructed to back the government.
Meanwhile the Colombo Gazette has learned that Shakunthala Perera, a senior female journalist who was one time at the Daily Mirror newspaper, has been appointed as the new Editor of The Sunday Leader.
Most of the shares of the newspaper were recently purchased by businessman Asanga Seniviratne.
News then spread that the controversial newspaper will be forced to change its Editorial stance and be more pro-government.

However Janz had refused to tow the government line and it is now understood that she was given an ultimatum to either do what the management wants or be removed from her post.
Recently government MP Sajin Vas Gunawardena had lodged a complaint with the police over the contents of a report appearing under "nutshells" in the newspaper.
CG