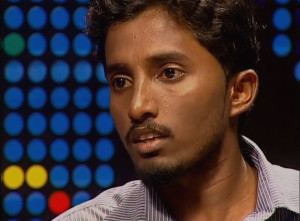 Sanjeewa Bandara
The Political Bureau of the JVP has issued a statement condemning the arrest of the convener of the Inter University Students Federation (IUSF).
The statement issued yesterday (20th) states, "Yesterday (18th), the convener of Inter University Students Federation the student Sanjeewa Bandara was arrested by the police. He was arrested while going back after participating in an agitation organized by the IUSF demanding the government to solve issues in the education sector including that of university teachers.

We condemn with detest arresting the convener of IUSF for demanding the government to solve issues in education sector.
This clearly indicates the government's intention of repressing the student movement instead of solving issues that hinder university education. This is not the first such step of the government. The government took measures on the 29th to get the police to attack students with tear gas and water cannot to break up the agitation organized by the Students Council of Colombo University. The government, after its unsuccessful attempt to get court orders banning student agitations and remove the stage erected by students to continue a 'Sathyagraha' campaign in Galle against the failure of the government to solve issues in education sector, has begun to arrest student leaders on false charges of assaulting police officers.
The whole education sector is in crisis. The school education and the higher education have slumped to the lowest levels. Students had to seek solutions from the judiciary for the 'Z' score issue and admittance to universities is getting delayed. Meanwhile, evaluation of answer scripts of the 2012 A/L examination has not begun despite the examination has been over for more than a month. The continuous strike launched by university teachers to protect free education has continued for more than 2 ½ months.
The country doesn't see that the government has paid any adequate attention to solve these issues. Instead what the country sees is the naked attempt of the government to hunt down the student movement and the trade unions that demand solutions for issues that affect them and the absurdity of stupid ministers of the government.
We demand the government to solve the issues that have sprung up in the education sector and take measures to redress the school and higher education in the country and call upon the progressive masses in the country to rally against the arbitrary and oppressive administration.
http://www.lankatruth.com/english/index.php?option=com_content&view=article&id=3287:condemn-the-arrest-of-iusf-convener–jvp&catid=42:smartphones&Itemid=74