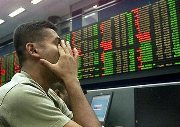 A committee is probing a controversial stock purchase more than 60 percent above market price by a state bank, with payment on the deal stopped on Treasury instruction, a minister said. Deputy economic development minister Lakshman Abeywardene said Treasury Secretary P B Jayasundera ordered state-run National Savings Bank not pay for the purchase .
The Finance Company stock because the process was flawed.
He said Treasury secretary P B Jayasundera had halted the payment pending the inquiry for which a committee has been appointed he said.
Opposition legislator Harsha de Silva, has called for the resignation or removal of NSB chairman Pradeep Kariyawasam over the deal.
He said that that any probe should not be compromised because he was the husband of Sri Lanka's chief justice.
De Silva who had earlier questioned several deals involving stock purchases by the Employees Provident Fund said the latest was only the 'tip of the iceberg.'
The stopped payment on the controversial deal caused a rumpus in the settlement system of the Colombo Stock Exchange with Sampath Bank, the settlement bank paying the sellers.
Sellers included, Dinal Wijemanne, a stockbroker who was a director and businessmen Rayynor Silva and Anura Fernando.
Minister Abeywardene said the deal could be reversed if wrongdoing was established.
Sri Lanka's main business chamber, the Ceylon Chamber of Commerce has also asked for wrongdoers to be identified.
LBO