( Ms Kurunchi – Member of Liberation Tamil Tigers of Tamil Eelam (LTTE) Civil Administration and wife of LTTE Chief Peace Secretariat in the middle, image © S.Deshapriya)
I am the wife of Pulithevan who was the peace secretariat for the LTTE. He surrendered alongside other political leaders and Tamil civilians and was killed by security forces. Previosuly My husband took part in several rounds of peacetalks held in Europe from 2002-2006 and worked strenuously to broker peace.
During the final stages of the war he was communicating with the international community to update them on the situation of civilian casualties in the No Fire Zone.
On May 16 2009, we moved to our final destination in the No Fire Zone of Mullivaikal. My husband, who was the LTTE peace secretariat, Pulithevan, asked me to surrender with Tamil civilians into government hands because I was ill. He said he would stay with LTTE Political wing leader Nadesan.
On May 17 2009, I crossed Vatuwal bridge into the military controlled areas. Before I left Pulithevan speaking to international community through satellite phones to discuss a surrender mechanism.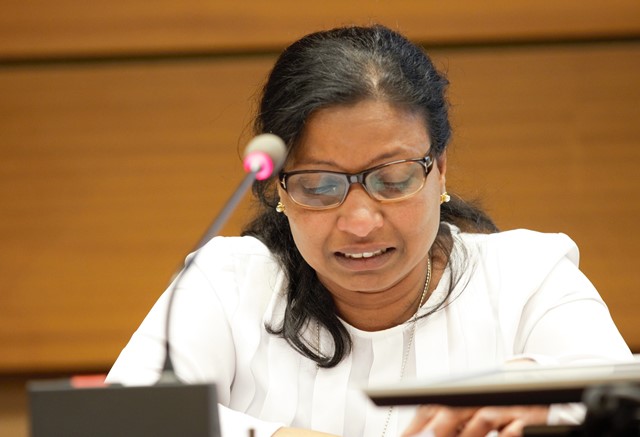 I stayed in the Chetikulam internment camp for a month after the end of the war.
I was not aware of what happened outside of the camp.
When I left the camp after 1 month, I came to know that my husband Pulithevan along with other cadres and injured civilians had walked into the military controlled area holding a white flag and was killed.
I don't know why they were killed after they agreed a surrender. We do not know who placed the order for their killing or how they were killed.
After informing the highest level authorities in Sri Lanka and people in the international community, I want to know why those people who surrendered were killed. I urge the international community to give justice for thousands of people like me.
– Courtesy Tamil Gaurdian