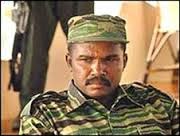 Vinayagamoorthi Muralitharan,
The United National Party has urged the government to start the accountability process by taking action against Kumaran Pathmanathan, who was at one time the main arms procurer of the LTTE, and Vinayagamoorthi Muralitharan, who was technically the second in command of the terrorist organization.
Both of them have shifted their allegiance to the government and Muralitharan alias Karuna Amman holds a ministerial position in the government while being a 'Vice Chairman' of the Sri Lanka Freedom Party.
The UNP said both KP and Karuna Amman have been accused of being involved in the attempted assassination of former President Chandrika Bandaranaike Kumartunga in December, 1999.
"The UNP calls on the government to cooperate with the UNHRC. The mandate of the team also involves investigating the atrocities carried out by the LTTE. The Government should at least present to the investigators the crimes committed by the Tigers. It is in an opportune place to do so. In their midst the Government have the main weapons procurer of the LTTE and the self proclaimed leader of the group after the demise of Prabhakaran, KP, the LTTE's one time deputy leader Hon. Vinayagamoorthu Muralidaran alias Karuna Amman who sits in Parliament as a member of the government and is also the Vice President of the SLFP. These individuals have been responsible for heinous crimes including the attempted assassination of a sitting President, Ms. Chandrika Kumaratunga and the massacre of hundreds of policemen in the eastern province who had surrendered to the LTTE. Accountability can start here. Yet with all the Tigers in their ranks, the Government persists in labelling all other progressive forces in the country as terrorists and traitors," the main opposition party said today.
"The hour is not yet too late. International challenges can still be effectively addressed. All it would require from the regime is the political will. The resolution passed in March this year at the Human Rights Council allows for a window of opportunity for the Sri Lankan government to carry out a credible internal investigation. This would prove that we are capable of handling our own issues.
In the meantime by blanket refusal to engage with the team of investigators appointed by the UN Human Rights Commissioner, Sri Lanka is admitting guilt and depriving itself of an opportunity to make its case. This would not only be an injustice to the valiant soldiers who sacrificed so much for this country but a betrayal of all our people who will have to suffer the consequences of international action," the United National Party also said.